Canadian radio legend Red Robinson passed away on April 1, 2023. If you knew radio, if you knew music, if you knew rock and roll, then Red touched your life.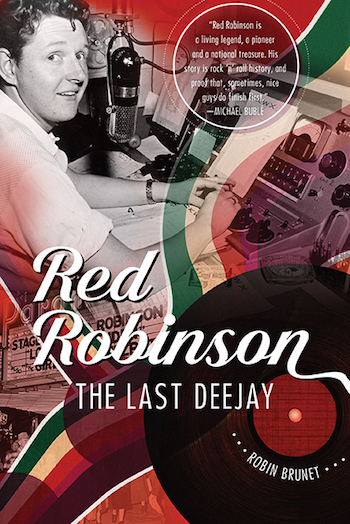 I used to blog a lot more about local history but when I did, I looked to Red for inspiration when it came to entertainment. As a Board Member of the BC Entertainment Hall of Fame, I got to learn so much more about him as a founder.
Robert Gordon Robinson (RED) was born in Comox, BC on March 30, 1937. He received his early education at King Edward High School in Vancouver. Red was spinning the hits on Vancouver's CJOR while still in high school in 1954, and he didn't sign off the airwaves until 2017, staying active through to this day on his website and social media.
It would be impossible to list every accomplishment, every moment where Red impacted the world of radio and entertainment in BC, but here are a few:
In 1957, Red moved to Vancouver Top 40 giant CKWX. He was the first radio disc jockey to program rock and roll on a regular basis in Canada, and the first to play Elvis Presley records.
In 1957, he was the MC of the Elvis Presley show at Vancouver's Empire Stadium and MC-ed the Beatles' show there in 1964 as well.
In 1961 he was hired as Program Director at Top 40 newcomer C-FUN, and turned it into a rock and roll powerhouse.
At EXPO 86, Red presented The Legends Of Rock'n'Roll, including Ray Charles, Roy Orbison, Fats Domino, Jerry Lee Lewis and The Righteous Brothers.
He was elected into the Rock'n'Roll Hall of Fame in 1994
In 1969 he founded Trend Advertising (later Palmer Jarvis Advertising)
Red hosted mornings on CKWX until 1983, and went "network" with Reunion, a cross-Canada oldies show that ran from 1985-1993.
In 1993 Red built a top-rated morning show on 650 CISL/Vancouver. Red "retired" from radio in 2001, but continued to broadcast his show Sundays on 650 CISL.
In 2016, Robinson was appointed to the Order of British Columbia for his tireless charity work with organizations like the CHILD Foundation, Heart & Stroke Foundation and Timmy's Telethon.
March 30, 2017 has officially been proclaimed "Red Robinson Day in Vancouver"
"Just before I left the dressing room to go out and bring on the opening acts, Elvis stood up, stretched out his hand and said, "It was nice meeting you. Good luck with your radio career and I hope we get to see each other again down the road."

– Red Robinson in 1982, looking back at one of the greatest days of his life when he introduced Elvis at Empire Stadium in August of 1957
CityNews Vancouver (CKWX) wrote about Red today: "For many Vancouver listeners, he wasn't just a part of radio history, he defined it."
Red's definitive biographies Red Robinson: The Last Deejay and Red Robinson: The Last Broadcast are available everywhere. His website is also a treasure trove of entertainment history, be sure to check it out.
I offer my sincerest condolences to his family and loved ones at this time.