Today, the Pacific National Exhibition ("PNE") opened a call for sponsorship partners, including naming rights, for its highly anticipated amphitheatre project. The project, which has been in the planning stages for several years is anticipated to be one of the most spectacular venues of its kind on the West Coast of North America when completed in 2026.
New PNE Amphitheatre Project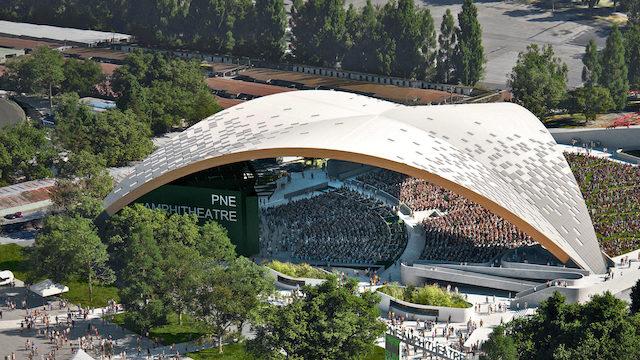 Designed by renowned Vancouver-based architecture company Revery Architecture, construction on the amphitheatre is anticipated to begin in early 2024 with completion in summer 2026.
Features
Maximum capacity of approx. 10,000
Estimated annual attendance 340,000+
Projected 75+ performances per year

24 Commercial Shows
22 Community, Arts, and Culture Shows
14 Corporate Shows
15 PNE Fair Shows (Summer Night Concerts)

Covered seating and best-in-class amenities including accessible washroom facilities, merchandise sales, food and beverage concessions, digital signage, and seamless Wi-Fi
Hospitality suites, banquet / lounge space, common areas, and fully integrated premium catering options
Province-wide engagement; opportunity to showcase BC products, suppliers, expertise, and core industries
Spectacular venue design incorporates daylighted stream, native greenery, and stunning natural vistas
Sustainable products and design; built to Passive Haus, LEED, and
Salmon-Safe certification standards
One of the largest free-span timber roof structure in the world
Chair of the PNE Board of Directors, Vancouver City Councillor Sarah Kirby-Yung says the project will help fulfill the City's goals to support more access to music and cultural space for Vancouver's creative sector, as well as creating a multi-functional outdoor venue for diverse uses.
"This is a very significant day for the PNE and for everyone in the city of Vancouver. Delivering performance opportunities for talented artists while at the same time creating a beautiful space where people of all ages and backgrounds can come together to create collective memories, is at the heart of creating a vibrant and fun city. This new amphitheatre will ensure generations of Vancouverites will be able to enjoy music and culture in an unparalleled setting in historic Hastings Park."

– Sarah Kirby-Yung
One of the most spectacular elements of the design is the roof structure, which, when completed will be longer than the roof of the Richmond Oval and one of the longest clear-span roofs in the world.
"The structural form is comprised of six-barrel vaulted segments intersecting at diagonal planes, creating a clear span of 105m (345') from buttress tip to buttress tip. The form, calling to the brilliant technical contributions of the CNIT building, a 1956 concrete shell structure in Paris designed by Nervi, harnesses the compression capacity of mass timber, a sustainable and local material, using it for both the ribs and the deck. What resulted is one of the longest timber arch roofs in the world – a true blend of architecture and structure."

– Robert Jackson, Partner at Fast + Epp Structural Engineers
The PNE will be meeting with interested parties to discuss mutually beneficial sponsorships, including naming rights, for this exciting amphitheatre redevelopment, a project anticipated to cost $65 million.
"As one of the most beloved brands in the province, the PNE already has a strong partnership program. We anticipate the spectacular nature of this project will draw interest from existing as well as potential new partners, which goes towards our mandate of creating an asset that will benefit the city for generations to come, while at the same time exercising fiscal responsibility for our organization and providing value aligned opportunities for organizations to partner with the PNE."

– President and CEO Shelley Frost
View more details about the new PNE Amphitheatre project online here.