A first-of-its-kind Indigenous cultural experience is available to the public this Spring Break in Tofino thanks to the Tla-o-qui-aht First Nation. For the first time, the public is invited to immerse themselves in culture and history, hosted by the Nation and from their own perspective.
Special Event Over Spring Break in Tofino
This winter I was able to interview some of the people involved in organizing and hosting this special event series called naaʔuu, and last week I experienced it first hand. It was even more incredible (and delicious) than I could have imagined.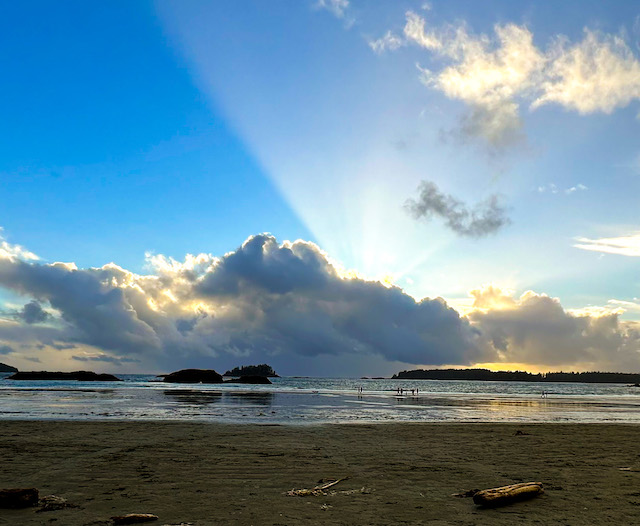 naaʔuu takes place at the Conference Centre at the Best Western Pus Tin Wis Resort, which by the way is my new favourite place to stay in Tofino. Indigenous owned and operated, right on the beach, affordable rates, free breakfast in the morning, all rooms facing the ocean, friendly staff, clean and comfortable rooms – I could go on and on!
Inside the Conference Centre, guests are greeted by carvings, a pop-up art gallery (with pieces for sale), and the banquet buffet table adorned with cedar boughs and bursting with platters of bannock, roasted potatoes and vegetables, salad, salmon, and more prepared by the team from Heartwood Kitchen in Ucluelet. Chef Ian Riddick was tasked with developing the menu inspired by Tla-o-qui-aht ingredients and he was even able to recreate some recipes shared by Elders.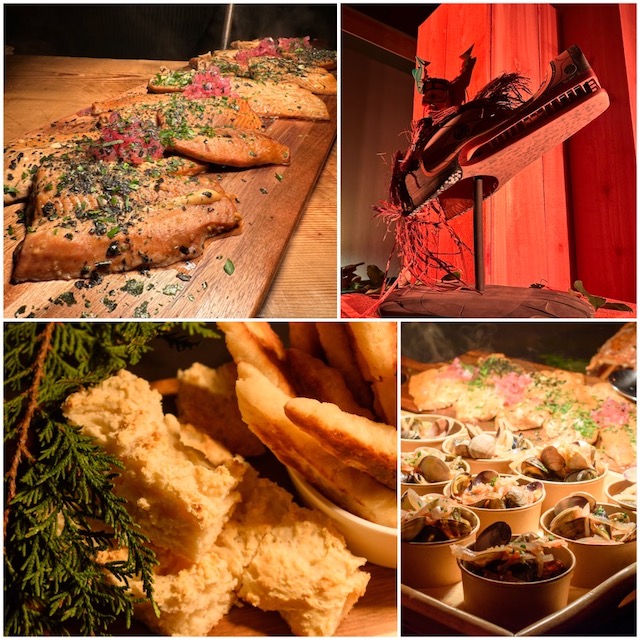 Past the enticing food and art pieces, visitors enter the event space, where a longhouse has been replicated indoors, complete with a low, rounded doorway. On each table, there were two types of nonalcoholic beverages offered and I couldn't get enough of the cold cranberry cedar tea.
The evening program includes video presentations, dance, song, drumming, and history all told in a captivating way by the very engaging Hjalmer Wenstob. There were several songs written by Tim Masso specifically for this event, for the cultural sharing, and masks were also carved for naaʔuu.
Wenstob told me last fall that it's not about lecturing or even a presentation, it's a cultural exchange. "I want folks to come in and have an experience that they're proud of, that we're proud of sharing, that they're proud of hearing […] We can't expect anyone to learn everything in such a short amount of time, but it's an opportunity to ask questions. Folks will come in and hear a little bit and that will send them off on an adventure."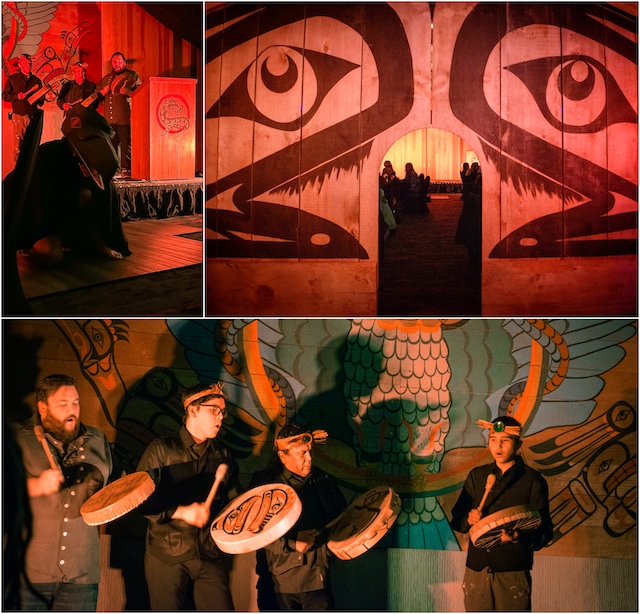 It was such an honour to experience this evening. Everyone always says that visiting Tofino is "magical" and it's a "beautiful" place but I have to say, when you finally experience this place through Tla-o-qui-aht song, food, song, stories and language – that's where the real beauty lies. You'll feel the spirit of naaʔuu in your heart.
Come naaʔuu
Purchase your tickets today and plan your stay in Tofino for this very special and unique cultural experience. Proceeds from naaʔuu ticket sales will go towards keeping Tla-o-qui-aht homelands protected and restored via the Tla-o-qui-aht Tribal Parks program.