YWCA Metro Vancouver has announced the 78 nominees for the 40th Women of Distinction Awards, presented by Scotiabank. Tickets for the awards gala May 9th are now on sale.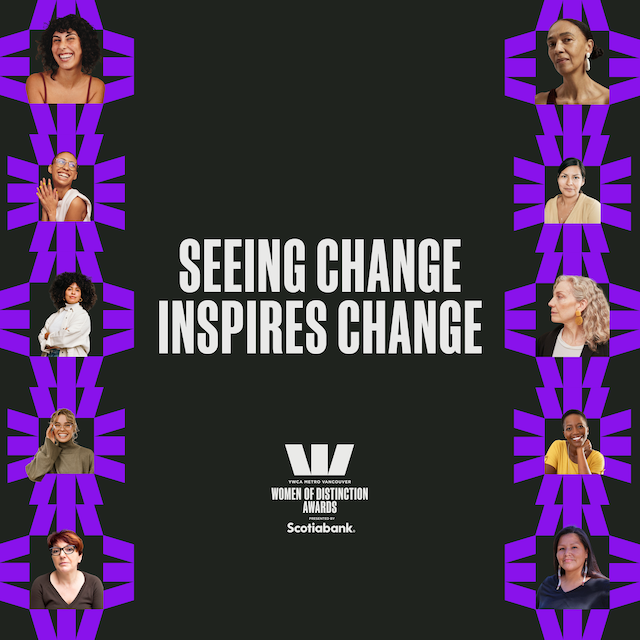 40th YWCA Women of Distinction Awards
Where: Westin Bayshore Vancouver
When: Tuesday, May 9, 2023 5:30pm to 9:30pm
Tickets: Available now! Until March 17th $285 per person; from March 18th $325 per person
2023 Nominees
You can view the full list of nominees, along with their bios, online.
Arts, Culture & Design
Carrie Tennant
Courtney Mienkina
Liz Marshall
Yvonne Chartrand
Business & the Professions
Abby Pang
Anita Bhandari
Catherine Dahl
Lia Moody
Lillian Tummonds
Mary-Jane Piggott
Michelle Duke
Miranda Lam
Morgyn Chandler
Natasha Jeshani
Parm Hari
Sara Forte
Sarah Nathanson
Shannon Susko
Sonja Baikogli Foley
Community Champion
Adebukola Adewuyi
Kendra Coupland
Lauren Simpson
Nataizya Mukwavi
Nerissa Allen
Pasima Sule
Pepita Elena McKee
Terri Rutty
Education, Training & Development
Annie Ohana
Margot Young
Dr. Poh Tan
V. Victoria Shroff
Entrepreneurship & Innovation
Angel Lam
Jennifer LeBrun
Jennifer Smith
Tamara Goddard
Environmental Sustainability
Jeannette Jackson
Dr. Lenore Newman
Marina Melanidis
Olivia Reshetylo
Health & Wellness
Dr. Karen Tee
Nicole LeMire
Rosemary Stager-Wallace
Non-Profit
Adaeze Oputa-Anu
Amina Yasin
Amy Robichaud
Azra Hussain
Marisa Espinosa
Michelle Sklar
Stephanie Beck
Stephanie Hollingshead
Wendy Hurlburt
Reconciliation In Action
Angela Kermer, SGaan Jaad Kwahst'aang
Ginger Gosnell-Myers
Jean Yuen
Rhianna Millman
Tara Brown
Tessa Danelesko
Research, the Sciences & Technology
Dr. Adriana Suarez-Gonzalez
Dr. Angela Devlin
Dr. Catalina Lopez-Correa
Dr. Connie Eaves
Dr. Evelyn Stewart
Dr. Nina Weisser
Dr. Silke Cresswell
Young Woman of Distinction
Nafoni Modi
Sang Le
Zoë Craig-Sparrow
Outstanding Workplace
The Dupuis Langen Group
Grosvenor
Microserve
Noel Asmar Group Inc.
Open Door Group
Para Space Landscaping
Parq Vancouver
RBC Royal Bank
Scotiabank
Steveston's Arts Connection
Talk Shop
Get your tickets today and celebrate these women who have had a positive impact in our community.
Vote – Connecting the Community
In addition to the award category in which they are nominated, all individual nominees are eligible to win the Connecting the Community Award – the only award category where the recipient is selected by public vote. Each nominee has chosen a YWCA area that is important to her for a chance to donate $10,000, courtesy of Scotiabank, to the YWCA program of her choice.
Follow the YWCA of Vancouver on Facebook and Twitter for more information.
YWCA Metro Vancouver is dedicated to achieving women's equality. Their mission is to touch lives and build better futures for women and their families through advocacy and integrated services that foster economic independence, wellness and equal opportunities.
Miss604 is a proud sponsor of the YWCA Women of Distinction Awards, since 2010.