National Canadian Film Day (CanFilmDay) is celebrating its 10th anniversary on April 19, 2023. This year's programming spotlight will showcase one hundred titles: a broad and diverse cross-section of Canadian films, with ten films in each of the ten categories. You can stream online (free), host a watch-party, or visit screening events in theatres.
Across the country there will be screenings at film festivals, cinemas, libraries, community centres, schools, friendship centres, retirement residences, art galleries, military bases and more. There will also be a tribute to groundbreaking Mi'kmaw filmmaker Jeff Barnaby, whose passing in 2022 shook the film community in Canada and beyond.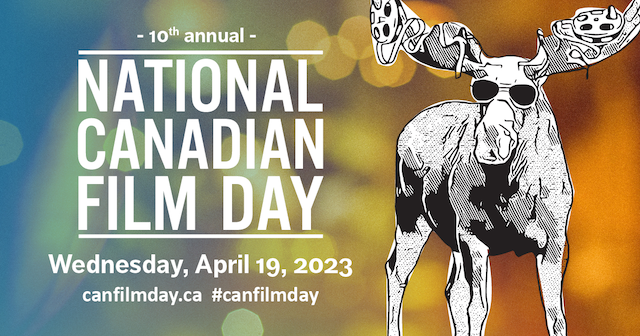 National Canadian Film Day in Vancouver
From March 17 to #CanFilmDay on April 19, VIFF will host a series with some of the most acclaimed new dramas to hit the festival circuit, as well as several revelatory local documentaries.
Anthony Shim's semi-autobiographical Riceboy Sleeps (from March 24) charts the travails of a South Korean immigrant family in a Vancouver suburb in the '90s, was named Best Canadian Film at VIFF, and scored TIFF's prestigious Platform Prize; Sophie Jarvis's Okanagan-set Until Branches Bend (from March 24) melds social realism, an acute psychological study, and sinister, surreal undercurrents; and, from Nova Scotia, Ashley McKenzie's marvelous, surprising Queens of the Qing Dynasty (from March 17) delicately sketches the friendship between a neuro-diverse teen and a queer Chinese volunteer caregiver. Finally, Tenzin (from March 18), the first feature made in collaboration with Ontario's Tibetan community, is a Buddhist soul-searcher about a young man struggling to make sense of his brother's suicide.
On the documentary front, Nisha Platzer's locally made, deeply personal back home (from April 14) also unpicks the heart-rending aftermath of a sibling's decision to end his life, sifting the loving remembrances of friends and family for solace and insight. Leslie D. Bland and Harold C. Joe's A Cedar Is Life (from March 31) and Alexi Liotti's Rematriation (April 22) are two more BC-produced documentaries, both focusing on the spiritual significance of our forests and the emerging coalition between the First Nations and environmentalists. Finally, on a lighter note, Brian D. Johnson's The Colour of Ink (from April 7) looks at what goes into artisanal inks, which is to say, almost anything, from berries and grapes to industrial rust to mollusc milk, blood, sweat, and tears. If we only look for it, there is an entire spectrum right in our own backyard. Look for further announcements of filmmaker Q&As and National Canadian Film Day programming soon.
CanFilmDay with VAFF
The Vancouver Asian Film Festival is hosting a screening of Riceboy Sleeps at the Cineplex Odeon International Village Cinemas on April 19th.
If you'd like to host a free event for your community, sign up online today.
National Canadian Film Day is a worldwide campaign presented by REEL CANADA, a charitable organization that promotes the diversity of Canadian film and its power to spark important conversations about what it means to be Canadian. Through its core programmes — Our Films in Our Schools, Welcome to Canada, Reel Opportunities, and National Canadian Film Day (CanFilmDay) — REEL CANADA has reached millions of students, new Canadians, and general audience members.