Watch uplifting stories of hope, courage, and resilience, and a whole lot of entertainment as the 57th annual Variety Show of Hearts Telethon takes to Global BC this week. This year's entertainment line-up will feature Sarah McLachlan, Jim Cuddy and Devin Cuddy & Sam Polley as well as Fefe Dobson and Coquitlam's own Tyler Shaw.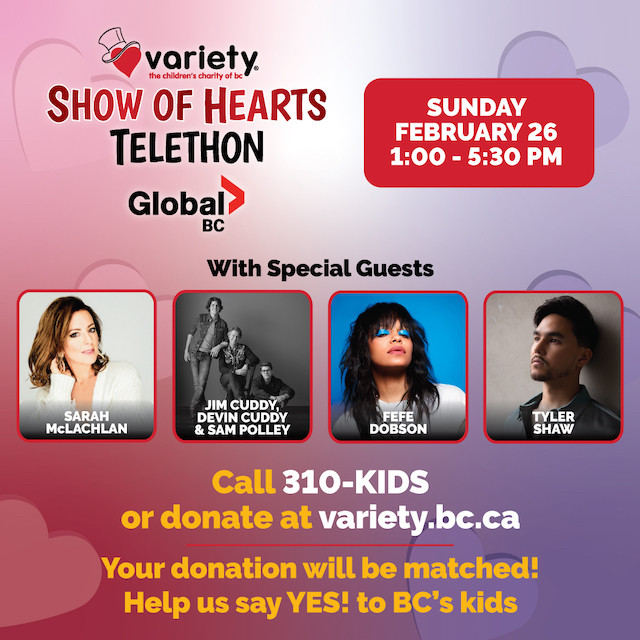 Variety Show of Hearts Telethon 2023
Look for stories and updates from Variety – the Children's Charity on Global News Hour at 6 starting Thursday, February 23. The inspiration will continue on all of Global BC's newscasts including Global News Morning and Global News at Noon on Friday, February 24 and Saturday, February 25.
The weekend will then culminate with the 57th Annual Variety Show of Hearts Telethon airing on Global BC and via livestream at GlobalNews.ca on Sunday, February 26 from 1:00pm to 5:30pm. 
The iconic fundraising event will be hosted by Global BC's Chris Gailus, Sophie Lui, Sonia Sunger, Paul Haysom, Mark Madryga & Michael Newman, CFOX's Karen Khunkhun and Rock 101's Kiah Tucker along with Todd Talbot. Joining them will be Alvin Law, Marco Pasqua, Howard Blank & Jessica McCready together with Variety Youth Champions, Esabella Strickland, Kaitlyn Lye and Jayden & Ashton.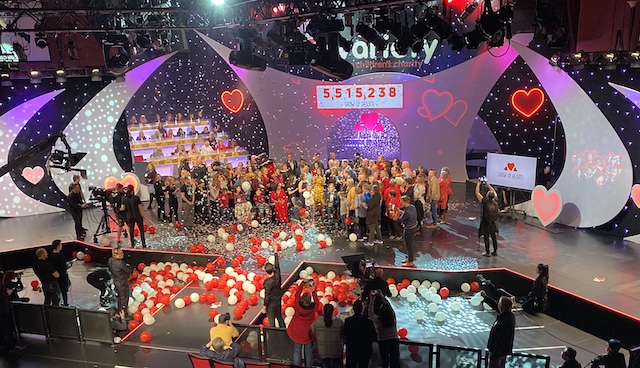 Throughout all four days, there will be donation matching opportunities up to $850,000 taking the impact of every gift further. Viewers will also meet more children whose lives have been transformed including 6-year-old Kean from Chilliwack who was provided with a pulse oximeter to keep him safe during his asthma attacks and viral-induced illnesses.
There will also be a tribute to Show of Hearts legend Bob McGrath (Sesame Street), an intro to the new Variety Schools program, the popular Robert Bateman poster for those who donate a minimum of $169, and much more to look forward to during the show.
Donations can be made online, over the phone by calling 310-KIDS or by texting "KIDS" to 45678 to make an automatic $25 donation.
Bonus! Beginning on February 26th through to March 5th, $2 from every burger sold at all White Spot restaurants and R+D Kitchen by White Spot located at the Amazing Brentwood will be donated to Variety up to $100,000.