We're so ready for the cherry blossoms to pop in Vancouver that even a photo of pink petals on a viburnum shrub in mid-February is getting everyone excited for what's to come! The Vancouver Cherry Blossom Festival will return in April, for most of the month, with free neighbourhood maps and walks, and a lineup of ticketed events.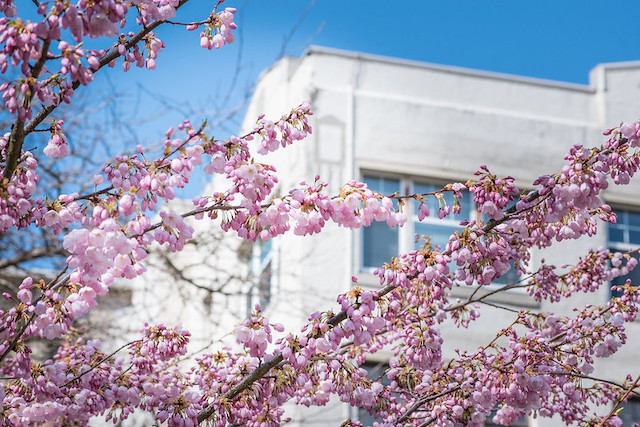 Vancouver Cherry Blossom Festival Events
Here are a few festival favourites that are on the calendar already:
The Big Picnic at David Lam Park
Saturday, April 1, 2023 from 10:00am to 4:00pm
Free
The Big Picnic is inspired by our belief that "there are no strangers under the cherry tree", and connects all diverse audiences through the cultural arts, community, and our beautiful environment. The 2023 edition will feature various stages with some of the best multicultural local talent, exciting food from a variety of the culinary offerings of the city, and interactive sharings from community partners who will offer ideas and practices for a healthier and sustainable future.
Sakura Days Japan Fair
Saturday, April 15 & Sunday, April 16, 2023
at VanDusen Botanical Garden (5251 Oak Street)
Ticketed event (available now)
Sakura Days Japan Fair celebrates all things Japan, from Japanese food, and performances, to arts and culture. Most activities will take place out of doors, with selected vendors, tea ceremonies, and experiences to take place indoors. Look forward to taiko drumming, theatre performances, woodworking demonstrations, and a renewed Japanese Garden display, just to name a few.
Bike the Blossoms
Saturday, April 22, 2023
at Trout Lake
Bike the Blossoms in partnership with Velopalooza is a beautiful slow ride under tunnels of the hot pink Kanzan cultivar on the east-side. Participants will end their ride with coffee and tea from Scavenger Coffee under a grove of cherry trees to reflect on their experience.
Tree Talks and Walks
April 2, 7, 8, 9, 10, 22, 23
Free
Tree Talks and Walks are free guided tours led by local experts that focus on better understanding how our trees play a vital role in our city. It's an opportunity to explore Vancouver's neighbourhoods and parks and to learn about the history of the land we inhabit. Keep an eye out for one coming in March! Details will be announced soon.
Follow the Vancouver Cherry Blossom Festival on Facebook for the latest news and event updates.
Related: Vancouver Cherry Blossom Festival in jeopardy after main sponsor backs out due to financial struggles: "The festival is facing an $80,000 shortfall because of the sponsorship pull out, which equals to about 25 per cent of its overall budget. "Without this sponsorship, we're definitely in trouble, in terms of our big events," says Michael Dove, the executive director of the Vancouver Cherry Blossom Festival. Most events at the festival are free for people to enjoy, aside from two major events, Sakura Days Japan Fair and the Sakura Night Gala."
Related: Cherry Blossoms