As far as stadium food goes, and as someone who travels and experiences sports venues across North America, BC Place is pretty exceptional in terms of variety (don't get me started on the soggy chips at Allianz Field… I digress). Last season, I had several new dietary restrictions, and I stopped drinking alcohol, so I survived solely on Boom Kitchen's veggie coconut curry bowl and Bubly water and I was very happy. I'm excited about some new items the team will be rolling out this year, which special guests and media got to sample today at the annual BC Place food preview.
New on the BC Place Menu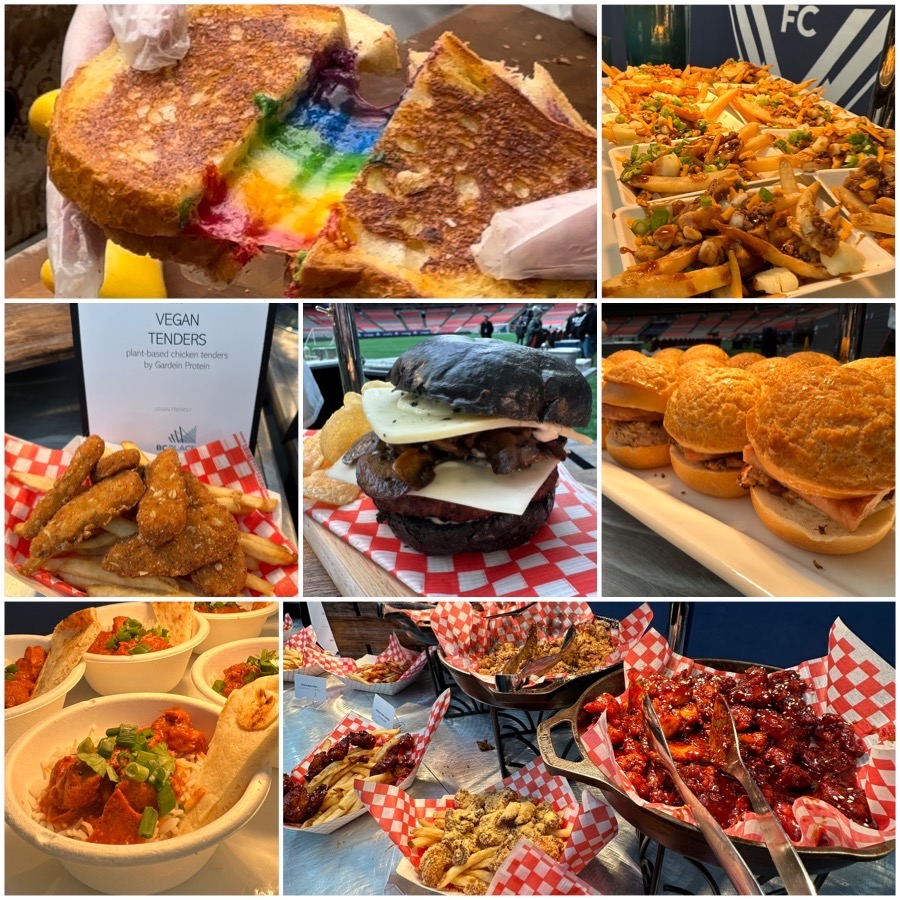 Here's what's new on the menu:
Boom Kitchen Section 230 & 244
Tuna Poke Bowl (ahi tuna, cucumber, edamame, pickled ginger, carrots, yuzu sesame soy dressing, sriracha aioli, brown rice & quinoa)
Rainbow Grilled Cheese
Jerk Chicken Bowl (tender chicken bites, pineapple salsa, spiced black beans, coconut rice)
Bombay South Asian Kitchen
Section 220:
Butter Chicken
Vegetable Samosas (peas, carrots, potatoes, spices)
Chana Masala (chickpea, red lentil, onion, tomato, house masala, coconut milk)
Beast Unleashed Section 210:
Tuxedo Wild Mushroom Truffle Burger (caramelized mushroom, truffle cheese, truffle aioli, charcoal brioche bun)
Porky Pine Bun (grilled pork chop, spam, butter, house baked pineapple bun)
Smoked Meat Sandwich
Foot Long Lobster Roll
Seoul Food Section 206:
Korean Fried Chicken (soy honey garlic, snowing cheese, Gochujang glaze, original)
Vegan Tenders (plant based chicken tenders by Gardein Protein)
Cheese Fries & Gochujang Fries
Lions Gate Grill all 4 locations:
Crispy Chicken Sandwich
The Poutinerie section 212 & 239
Cheeseburger Poutine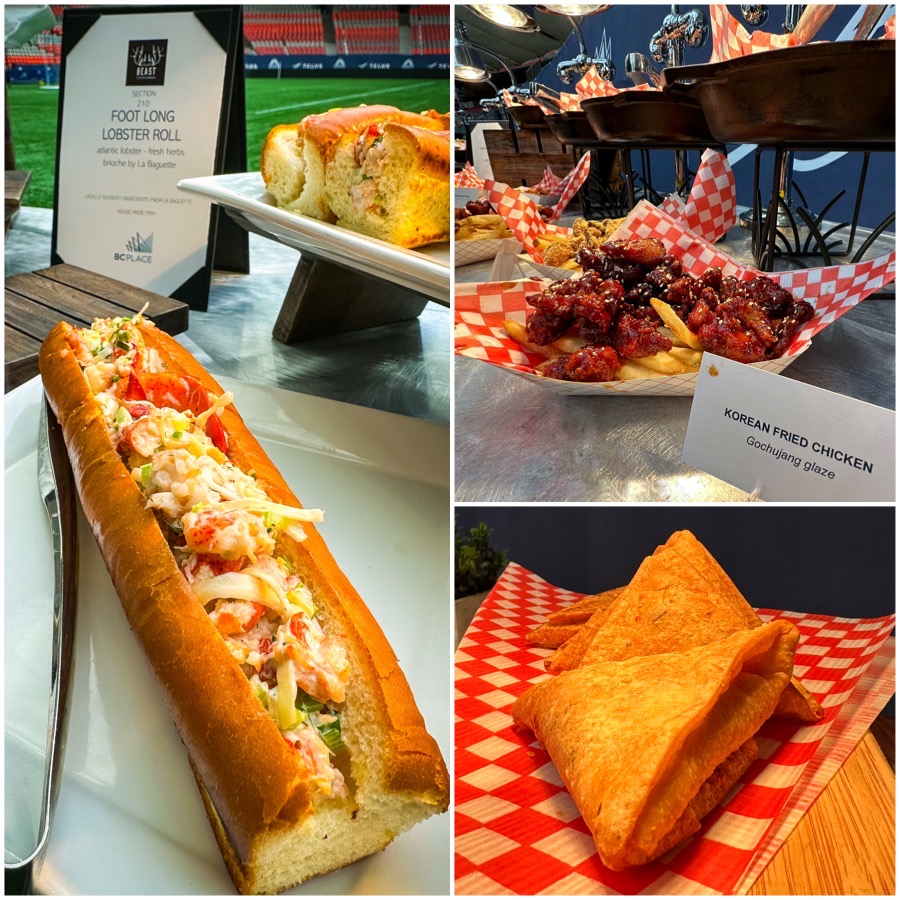 Returning vendors/concessions include The Mac Bar, Commercial Drive Pizza, and Dawson's Hot Dogs (where there is a veggie dog option).
The Thirsty Pigeon (Sections 234 and 248) has rotating craft beer taps featuring beers from Vancouver Island Brewery, Stanley Park Brewery (including their nonalcoholic Trail Hopper), Red Truck Brewery and Steamworks Brewery.
70% of the ingredients are sourced locally. Some food items are also from local providers, such as the samosas which are from Nana's Kitchen, and the lobster rolls and smoked meat sandwiches from La Baguette. There are several house-made items as well like the Tuna Poke Bowl, the Porky Pine Bun, and more.
My favourite today was the chana masala (served up by coach Vanni Sartini) and the vegan tenders. You can view more options in this Instagram reel, and there's a document here with the stadium's vegan, vegetarian, and gluten free options.
In 2022, fan favourites were poutine, of which 14,300 orders were made, and the classic hot dog, which BC Place sold about 84 soccer fields' worth (that's about 35,000 regular 6" hot dogs and 13,000 footlong hot dogs). Whether you're heading to the stadium for a Whitecaps match, or next weekend's Rugby Sevens, I recommend you come hungry!