Rooted in the French-Canadian community and heritage of the Maillardville area in Coquitlam, Festival du Bois is the largest and most popular celebration of francophone music and culture in BC. The event returns this year with a brilliant roster of music artists and performers slated to grace the stages of the big heated tents at Mackin Park.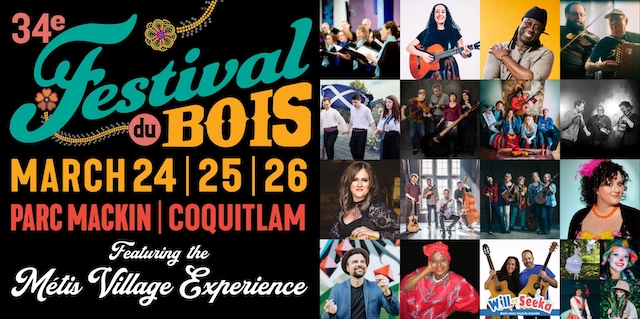 Festival du Bois 2023
When: March 24-26, 2023
Where: Mackin Park/Maillardville

(1046 Brunette Ave, Coquitlam across the highway from IKEA)

Tickets: Early bird pricing until the end of February. Single day and full festival passes available. Children under 5 years are free.
The festival opens on Friday night, March 24, with a contra dance – now a festival tradition – in the Grand Chapiteau (Big Tent) in Mackin Park. Dance to the music of Vancouver's premiere contradance group, The Sybaritic String Band, with caller, Maureen Collier. Opening the evening is an exciting double bill featuring Devon and Louis Léger (La Famille Léger) and the music and foot rhythms of Podorythmie.
On Saturday and Sunday the festival presents outstanding music artists from BC, Manitoba, Washington State, and Quebec. The concert Main Stage and dance floor of the Grand Chapiteau welcomes: Les Grands Hurleurs, the "great howlers", playing traditional Québécois music that's bursting with new ideas; sensational Senegalese soul-rocker, Élage Diouf; hip-swivelling, dance-floor-filling Brazilian dance music from Forró do Cana; Québécois music power trio, Genticorum; BC's own Métis Jiggers; La Famille Léger's French-Canadian and Acadian tunes, along with the galvanizing music and dance of Podorythmie; and, celebrating 50 years, Maillardville-based francophone choir, Les Échos du Pacifique.
A featured area of the festival, The Métis Village Experience, invites festival-goers to enjoy, explore, learn and appreciate the rich Métis history, art, perspectives and language. Musicians, dancers, storytellers, craftspeople, artisans and others share their culture and traditions. Festival du Bois is excited to again partner with the North Fraser Métis Association.
In the Children's Tent (Petit Chapiteau), kids and families will get to experience Madame Diva, Will & Seeka, Seeka Sings, and Véronique's Conte d'Afrique avec Mulungie.
View the full schedule and lineup of artists online.