Laugh for a great cause at Life is Funny! On March 15th, four award-winning entertainers will take to the stage at the Rio to host a comedy fundraiser in support of Aunt Leah's – helping foster moms, youth and babies.
Comedy Fundraiser for Aunt Leah's
When: Wednesday, March 15, 2023 at 7:00pm
Where: Rio Theatre (1660 E Broadway, Vancouver)
Tickets: $35, VIP $45 available online now
The evening will be hosted by Helen Schneiderman, featuring Syd Bosel and Ray Morrison, with special guest Janice Bannister. Bosel and Morrison have hosted several Life is Funny events over the years, which started when the crew wanted more opportunities to perform, but also give back to their community.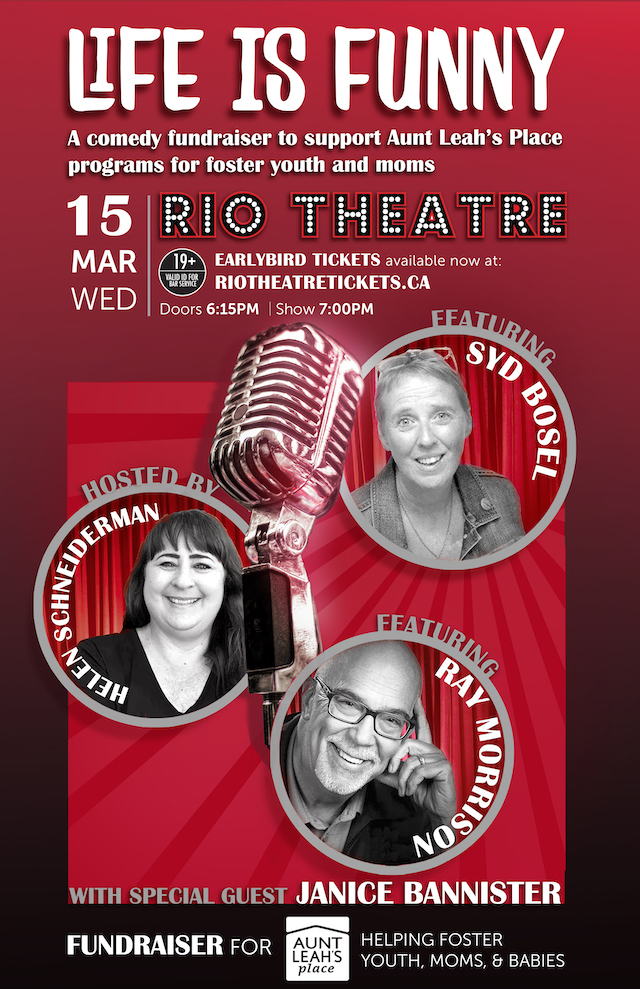 About the Talent
Helen Schneiderman was in CBC's 2019 & NextUp Top 100, and won her preliminary round of the 2019 Yuk Off contest, came second in the 2019 BC Funniest New Female Comic contest, and was the opening comic on the 2020 "I Am Woman Hear Me Laff" tour and 2022 Chutzpah Festival.
Syd Bosel spills your life out onto the stage as she shares her tales of having "Adult" children, surviving breast cancer, menopause, and other glories of nature. She has won numerous awards, placing first and voted as the Fan Favourite in the 2018, BC's Funniest New Female Comic competition. In 2022, Syd placed 2nd out of 60 comics, in the "Funniest Person with a Day Job" Competition. She has performed for numerous shows and fundraisers. She can be heard on Spotify on the Just for Laughs comedy album, "Poor Man's Hummus" and is a regular on the "Jest Ladies" Troupe.
Ray Morrison, the "Elder Statesman of Vancouver Comedy," has won the "One Hitter Quitter" comedy competition over 140 other competitors, and was a two time semi-finalist in the Great Canadian Yuk-off competition. He has performed for audiences at several locations including House of Comedy, Yuk Yuk's, various brew pubs, and restaurant and at fundraisers for synagogues and the Ethiopian Canadian Association.
Janice Bannister walked on the stand-up comedy stage 20 years ago, and has performed at Just for Laughs and numerous other gigs across Canada, US and Costa Rica. She has toured with Debra DiGiovanni and has featured and headlined at the House of Comedy and Yuk Yuks. Janice is the owner and instructor of Laughter Zone 101 stand-up comedy school, and has produced over 736 comedy shows featuring many of her former students. Janice is also a corporate speaker, on "Laughter as a Wellness Tool". She combines her years as a psychiatric nurse with her life as a stand-up comedian, to bring audiences laughter tips for their mental and spiritual well being.
About Aunt Leah's
Much more than tree lots! Aunt Leah's place helps prevent children in foster care from becoming homeless and vulnerable women from losing custody of their children. To support them on their journey to self-sufficiency, they provide supported housing, job training and coaching on essential life skills. Aunt Leah's was evaluated by Charity Intelligence as one of the Top 10 Impact Charities delivering returns of 6 times for every dollar donated.
Get your tickets today and have a great time supporting a wonderful local cause.