ATLAS steak + fish presents a luxe, shared three-course experience this Valentine's Day, which you can enter to win from Miss604: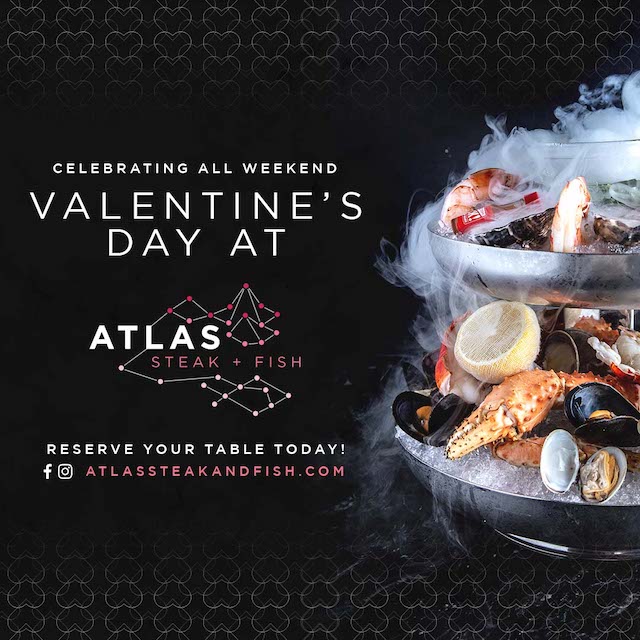 Valentine's Dining Experience at ATLAS
The Valentine's menu is available February 10-14, 2023 at the Langley and Burnaby ATLAS steak + fish locations in addition to the a la carte dinner menu. The Kamloops location will only have the Valentine's menu available on February 10-11 and the 14th. Reserve online today to save your place.
Three Course Menu
ATLAS creates a show-stopping taste experience by combining the finest ingredients with expert cooking and engaging table-side service. The cornerstone of the menu, the Josper oven is a mesquite coal-powered oven that functions as a smoker, oven and broiler, and is what gives the dishes at ATLAS their signature smoky taste.
Guest will be able to select an option to start, to share, and to finish their three-course meal:
TO START – Salads Prepared Tableside for Two
Caesar Salad – 32
heart of romaine, parmigiano-reggiano, bacon, traditional dressing
Baby Kale & Spinach Salad – 30
bacon, wild mushrooms, sundried tomatoes, roasted shallot vinaigrette
Fresh Shucked Oysters Per Dozen 44
today's selection, champagne vinegar mignonette, fresh horseradish
Charcuterie & Cheese – 32
selection of meats, local + imported cheeses, gnocco fritto, pecans
TO SHARE
Valentine's Mixed Grill – 125
Josper oven fired 14 oz. certified angus beef striploin steak sliced for service, seared sea scallops, jumbo tiger prawns, dungeness crab legs, bearnaise-demi sauce, whipped potatoes, Josper roasted vegetables
Seafood Tower – 120
1/2 Atlantic lobster, dungeness crab legs, ahi tuna poke, seasonal oysters, mussels, clams, poached jumbo prawns, gin cocktail sauce, champagne mignonette, served chilled
Seafood Mixed Grill – 96
1/2 Atlantic lobster, dungeness crab legs, crab cake, tiger prawns, tempura soft-shell crab
TO FINISH
Chocolate Peanut Marquis Bar – 10
puffed rice, caramel corn crème anglaise
Strawberry Rhubarb Pavlova Cheesecake – 10
crisp meringue shards
Enter to Win
I'm giving this experience away to a lucky winner and their guest who will be able to book a dining time either February 12 or 13 at the Burnaby or Langley ATLAS location. Follow ATLAS (Facebook / Instagram) and Miss604 (Facebook / Instagram) and complete the following to enter to win:
Win a Valentine's Dining Experience for Two at ATLAS
You can visit ATLAS in Burnaby at 4331 Dominion St, Langley at 20393 Fraser Hwy, and Kamloops at 1555 Versatile Dr.