It's such a bright spot during those dark, late winter days! The Vancouver Mural Festival has announced the return of VMF Winter Arts February 16-26 with light installations, AR, live entertainment and more curated around the theme of "Land and Light".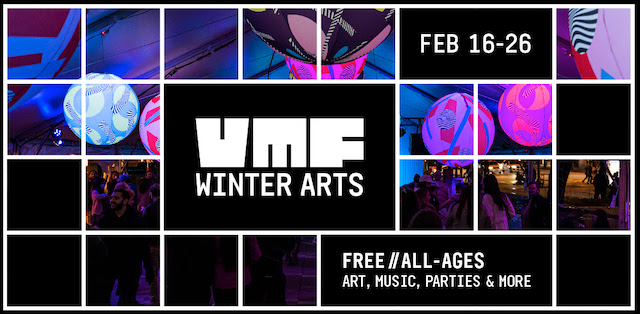 VMF Winter Arts in Vancouver
Enjoy free art, entertainment and more at the Winter Arts Hub—the festival's central outdoor live site— located at šxʷƛ̓ənəq Xwtl'e7énḵ Square on the north side of the Vancouver Art Gallery.
Over at the Bentall Centre Gallery (555 Burrard Street) tickets available now for VMF After Dark which will host a series of 19+ late night pop-up parties. During the day it will be an all-ages daytime bar, lounge and digital art gallery.
Other festival highlights include augmented reality, light installations and sculpture by local and international artists; Blanketing The City: Lighting The Way featuring Coast Salish weaving designs by Debra Sparrow illuminating iconic landmarks; Present, an exhibition curated by multimedia artist Tafui, bringing together audio, visual, and spoken word artists to highlight the creativity of the African and Caribbean diaspora; curator talks and daily guided art tours across Downtown Vancouver.
View the full program and map of in the installations online.