Nominations are now open for the 20th anniversary of the Small Business BC Awards, British Columbia's largest awards competition dedicated exclusively to small businesses.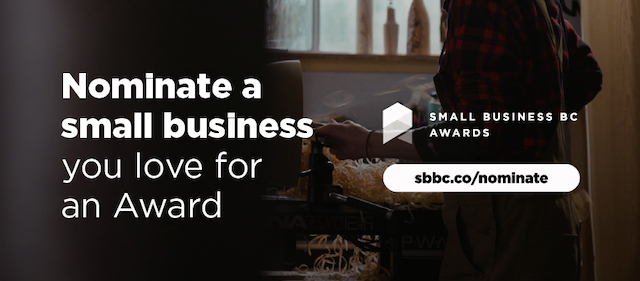 Small Business BC Awards 2023
Nomination a small business in the following categories:
Businesses can enter a total of two categories: Premier's People's Choice Award and one of the three Business Pitch Categories.
The top five finalists for each category will be announced in late March, and they will do business pitches for a panel of judges in April. The winners will be announced at an in-person gala on June 2, 2023.
2022 Winners
Last year there were 636 nominations in 88 communities! Each business saw their communities come out in numbers, registering over 38,000 votes for businesses in our two categories: Business Impact Award and SBBC People's Choice Award.
Business Impact award winners:
Nature Bee, Friendly Composting Inc., Lil' Ronnie's BBQ.
People's Choice Award:
Soul Bite Foods Inc.
History of the Awards
The original Business Plan contest launched in 2003 (Successful You Awards), and now the Small Business BC Awards, which has grown to become Western Canada's largest Awards competition dedicated to small business.
During that time, over 6,000 small businesses from across our province have participated, representing every community and every industry. It is estimated that over 500,000 people have cast a vote in the awards over the years, taking the time to acknowledge and celebrate the hard work that goes into starting a small business.
Nominate your own business or a business you love today!