To celebrate Canada's Agriculture Day on February 15th, BC Agriculture in the Classroom Foundation ("BCAITC") is hosting two free virtual Cook-Along BC events.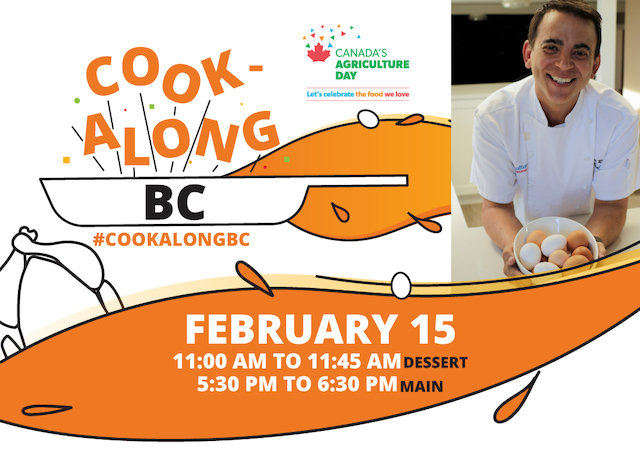 Free Cook-Along BC Events
BCAITC Chef Trevor Randle will provide expert instruction as he guides participants online through two BC grown recipes during these free cook-along events:
11:00am-11:45am Feb 15, 2023

Chocolate Espresso Lava Cakes with Crème Anglaise

5:30pm-6:30pm Feb 15, 2023

Turkey Falafel with Garlic Yogurt Sauce and Chopped Salad
BC egg farmer Kristen Poortvliet (Misty Mountain Farm) will join the morning session and BC turkey farmer Jillian Azanza (K&M Farms) will join the evening session to provide fun insights on BC farming. Participants will also be entered into draws for a chance to win prizes totalling over $250.
Canada's Agriculture Day was first launched in 2017. A coast-to-coast initiative of The Canadian Centre for Food Integrity, it celebrates agriculture and to create a conversation between consumers and producers around the food we love. It's a day to celebrate Canadian food, and to connect the people who produce it to the people who love to eat it.
Register online for these Cook-Along BC events and find the recipes and menu shopping/equipment list.