The #CHVCatchUp is a monthly series featuring the latest updates and news from Covenant House Vancouver ("CHV"). Miss604 is proud to be the Official Blog Partner of CHV. This month's post has been written by Jason Bosher.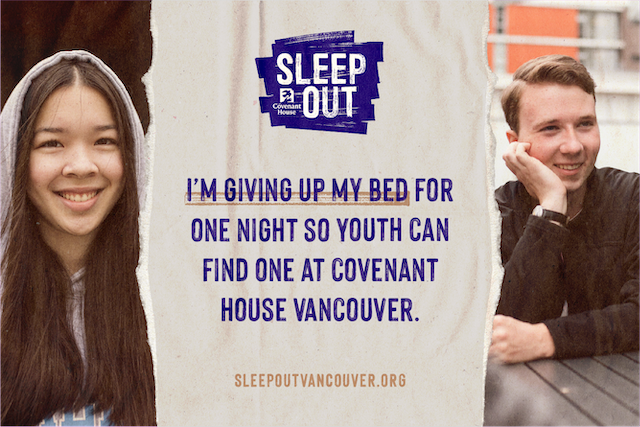 What is Sleep Out: Champions Edition?
Sleep Out: Champions Edition is a fundraising initiative for anyone who would like to actively support vulnerable youth. On Thursday, February 16, 2023, people across the Lower Mainland, and beyond, will give up their beds for one night, to provide many nights of safety and support for youth.
Why Sleep Out: Champions Edition Is Important
This event will raise funds to support the mental health and addiction programs at CHV.
There are approximately 500 – 1,000 young people without a safe place to sleep every night in Metro Vancouver. Many of them experience mental health concerns that are often left undiagnosed, including post-traumatic stress disorder (PTSD), depression, schizophrenia, bipolar disorder, and borderline personality disorder. Often these youth cope by turning to substance use.
Covenant House Vancouver offers young people an opportunity to address any counselling and psychiatric needs they may have through social workers and Registered Clinical Counsellors. Through a trusting, confidential relationship, the youth and their clinical counsellor will determine what type of support is best for them.
About the Sleep Out Event
The event will take place in person at CHV's 1280 Seymour St. location. Many participants who have experienced Sleep Out in person have said that it is life changing.
~ Read about Miss604's first Sleep Out experience in 2013 ~
The evening will begin with an introduction to Covenant House Vancouver, followed by tours of the new building. Participants will then hear stories shared by youth at Covenant House, about their journeys and experiences. After that impactful experience, participants will receive their cardboard and sleeping bags and will head out to the alley to prepare for their night on the street.
Each participant will be provided with a list of their donors and are encouraged to write these names on their cardboard as a way of expressing their gratitude for the support. Participants may also share why they are sleeping out.
In the morning, participants gather and share their experiences during a time of reflection. It can be an emotional time as participants are truly moved by their overnight experiences.
For those who cannot be there in person, CHV is offering a virtual option. Remote participants will experience engaging programming and meaningful conversations, including the stories shared by youth and the morning reflections. Virtual participants are also able to share their experiences.
Anyone Can be a Champion
Join Covenant House Vancouver and give up your bed for one night to support young people facing homelessness.
Thursday, February 16, 2023
1280 Seymour St.
7:00pm to 7:00am
Sign up to Sleep Out or make a donation and be part of the movement to help change the lives of youth.
Contact the Sleep Out Team if you would like more information about how you can get involved.