After two years, the Chinatown Spring Festival Parade returns to usher in the Year of the Rabbit and celebrate of Chinese culture and heritage in Vancouver.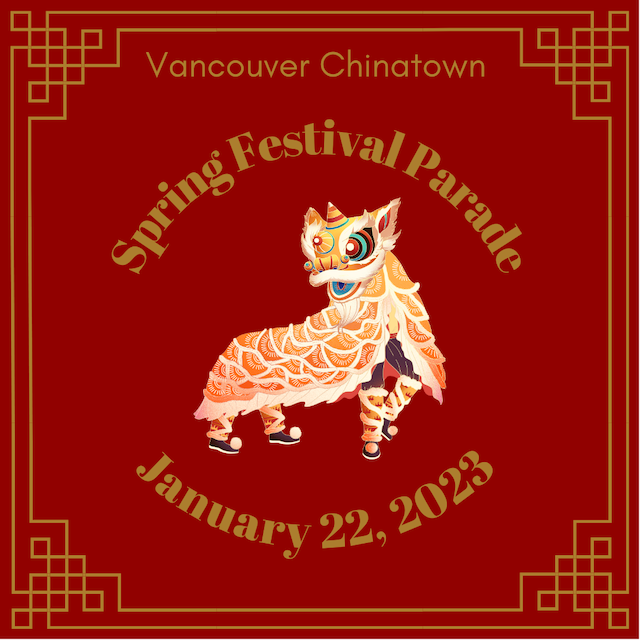 Chinatown Spring Festival Parade 2023
When: Sunday, January 22, 2023 at 11:00am to 1:30pm
Where: The 1.3-km long route starts at the Millennium Gate on Pender Street (between Shanghai Alley and Taylor Street), proceeds east along Pender Street, turns south onto Gore Street, turns west onto Keefer Street and then ends on Keefer at Abbott. Click here for a map.
Enjoy the Chinatown Spring Festival Fair at the Sun Yat-Sen Plaza 2:00pm to 4:00pm and a gala dinner at 6:00pm at Floata Seafood Restaurant.
Ticketed Events
Additional events and activities nearby at the Chinatown Storytelling Centre include: The Power of Animation by Trevor Lai (Saturday, January 21); and Year of the Rabbit Celebrations: Meet the God of Wealth and Paint a Lucky Rabbit (Sunday, January 22).
At the Dr Sun Yat-Sen Classical Chinese Garden enjoy festivities Saturday and Sunday as well from 11:00am to 6:00pm. There will be arts and crafts, performances, lanterns, tea ceremonies, and the opening of a new exhibition by Chairman Ting. All tickets/donations will go toward supporting our Xiao Seniors Program, Traditional Arts Workshops and Educational Programs and ongoing conservation projects at the Garden.