The Vancouver Polar Bear Swim is officially returning to English Bay for 2023! This will be the first in-person swim event in three years, and will mark the 103rd anniversary of the annual New Year's Day tradition.
Vancouver Polar Bear Swim 2023
When: January 1, 2023 from 12:00pm to 4:00pm

Program starts 12:00pm, official swim at 2:00pm

Where: English Bay near the bathhouse
Registration: Registration is now open, and participants should register in advance to receive their participation certificate.
The event moved to a "digital dip" at the last minute in 2022, in accordance with COVID-19 public health orders. This year, swimmers and spectators will be welcomed back to take their annual frigid swim in the waters at English Bay.
"Vancouver's Polar Bear Swim is one of the largest and oldest in the world, and we're delighted the Park Board is able to once again host such an important and fun community tradition," said Tony Syskakis, Supervisor of Aquatics for the Vancouver Board of Parks and Recreation. "It's always amazing to see so many people come together to start the year off with an exciting challenge."
Indoor spaces will be available including change rooms, washrooms, lockers, or warming tents, however, it is always recommended swimmers to come swim-ready. Portable toilets will be available on site.
Organizers will also be bringing back other fan favourites including live DJ, food trucks and more.
Swimmers entering the 100-yard race should meet behind the start line. The first three swimmers to touch the marker buoy by the lifeguard boat should give their names to the lifeguard.
After the swim, participants can pick up their commemorative button at the centre-tower Family Zone or Information Tents spread throughout the beach.
The event will have a designated family area along with an accessible beach mat for participants.
2023 Polar Bear Swim commemorative merchandise, such as hoodies, toque and t-shirts are available for purchase online with a limited amount available for purchase on site.
Additional safety considerations
If you have a heart problem – just watch.
Children must be accompanied by an adult.
Please leave your dog at home.
Do not drink. Alcohol does not warm you up; it accelerates hypothermia.
Do not stay in the water longer than 15 minutes. Body heat is lost 25 times faster in water than in air.
Do not remove your clothing until swim time. The swim will be started by a flag and siren.
History of the swim
In 1920, Peter Pantages and nine other brave swimmers started their New Year in style by plunging into the chilly waters of English Bay. The group became known as the Vancouver Polar Bear Club. Since then, the swim has grown into a much loved highlight of the holiday season.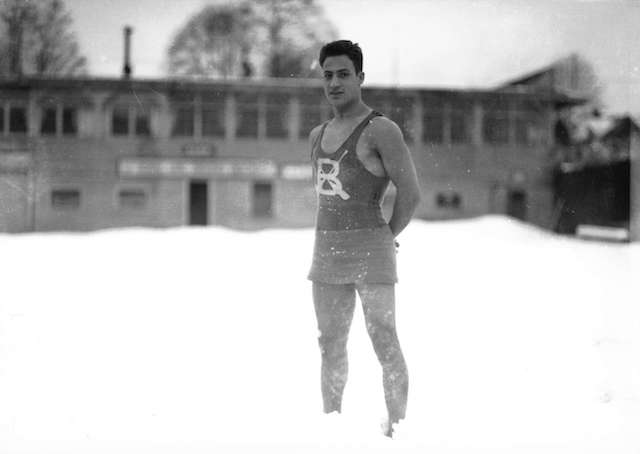 Peter's granddaughter, Lisa Pantages, will also be joining for her 61st swim – all but two have been at English Bay.
"I'm so excited our community can be together once again this year, and to experience the energy down at the beach," said Pantages. "Whether it's your first Polar Bear Swim or your 40th, everyone goes in with the same spirit, and out with a fresh outlook on the New Year."
Follow Miss604Holidays this season for the latest arts and culture activities, attraction and event news »