Employ to Empower is hosting the Vancouver Street Store 9.0 — a free, outdoor pop-up clothing store that provides a dignified shopping experience for DTES residents and community. With more than 600 guests anticipated for the annual Downtown Eastside event, they are calling for additional donations and volunteers at this time.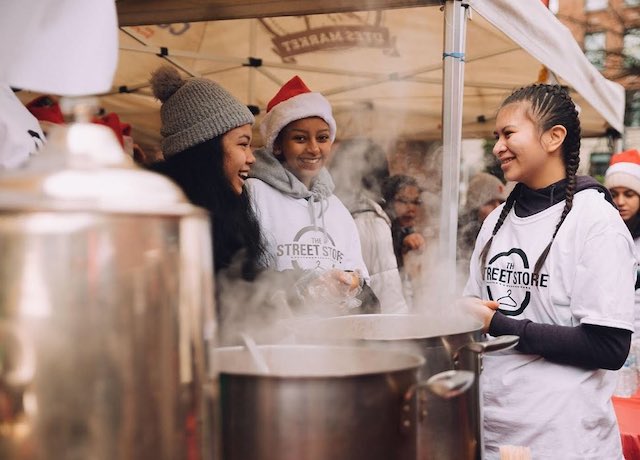 Volunteer with the Vancouver Street Store
Held at Oppenheimer Park for the second straight year, the internationally recognized event, which is sponsored by BC Housing, will take place on Saturday, December 10, 2022, from 10:00am to 4:00pm at 400 Powell Street.
"Ahead of this year's big day, the Street Store is expecting the largest turnout yet as the need for increased connection and basic resources continues," said Christina Wong, Executive Director of Employ To Empower. "We hope that every guest that comes through the Street Store will be wrapped in warmth in their new jacket or items of clothing, and also be filled with warmth and love from the community."
Over the last two years, the Street Store saw a significant increase in donations, collecting 853 bags of items. Heading into the 2022 event, the community has expressed a need for warm winter jackets, men's and women's clothing (specifically pants), men's winter boots, backpacks, blankets, sleeping bags, winter accessories (hats, gloves, scarves), and toiletries in good condition. Summer clothes, children's clothes, used undergarments, hotel-sized toiletries, books, and household items will not be accepted.
Donors are asked to drop off their new or gently used items on Friday, November 25th from 6:00pm to 9:00pm; and Saturdays, November 26th and December 3rd from 10:00am to 6:00pm at 41 East Hastings. There's also a need for individual and corporate monetary donations to support Employ to Empower and its programs.
UPDATE: New donation drop-off date Thursday, December 8, from 6:00pm to 8:00pm at 41 East Hastings — with drop-off in the back entrance.
Volunteer opportunities include Clothing Sorter on November 26th and December 3rd, or at the Street Store on December 10th; with multiple time shifts to select from, as listed when registering through this form. Other ways to get involved include becoming a Donation Champion. As well, the Street Store is asking for fund donations to help cover expenses for venue, event equipment, operation costs, and ETE programming.
Since 2014, the Street Store has made an impact in the community by working with more than 600 volunteers, sharing 72,770 donations, and spreading holiday cheer to more than 6,850 residents. In addition to the shopping experience where guests have the opportunity to choose 10 gently-used items, the Street Store also offers free food, drinks, and haircuts.
About Employ to Empower
Employ to Empower (ETE) is a registered charity, launched in 2018, that provides residents in Vancouver's Downtown Eastside with access to development and entrepreneurial resources, such as affordable microloans and business mentorship, to have long-term positive impact on their personal and economic well being. ETE also actively advocates for positive social change in the DTES community. ETE's mission is to empower individuals who face at least one of the three following barriers: physical and/or mental health challenges, poor credit, or are currently accessing social services with entrepreneurial opportunities.
Related Employ to Empower stories