Tickets are now on sale for TEDxSurrey, with a special early bird price until November 15th. This is one of the most successful TEDx events in North America, with five of 2022 speakers showcased by TED on their main YouTube channel and shared 34 million subscribers!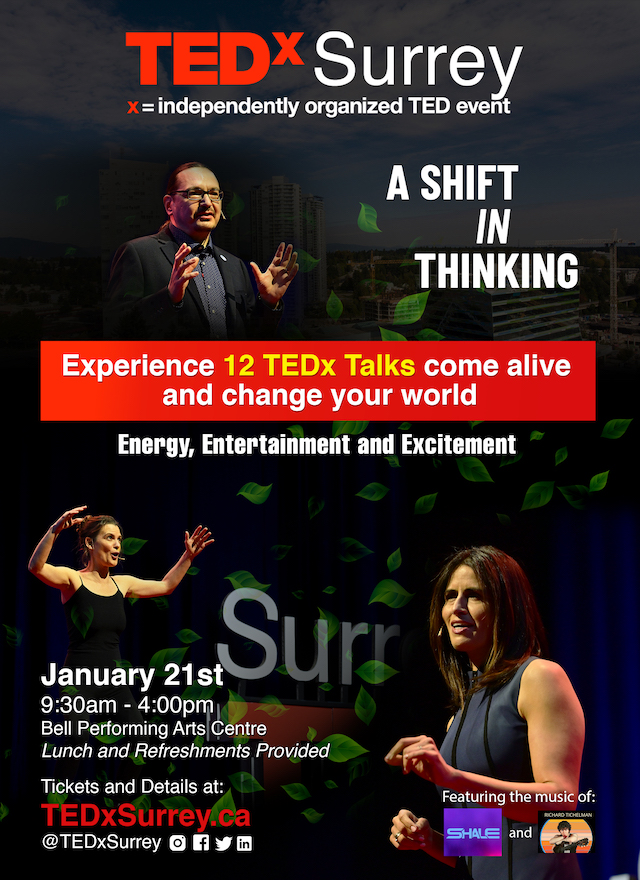 TEDxSurrey 2023
When: Saturday, January 21, 2023 from 9:30am to 4:00pm
Where: Bell Performing Arts Centre (6250 – 144th St, Surrey)
Tickets:  All Premium Seats, normally $99, are on sale for $79 starting November 1 at 8:30am until November 15th. Use Promo Code "PREMIUM" to get the best seats at a discount now.
This in-person event will feature 12 brilliant speakers and a greater emphasis on the "E" in TED, which stands for entertainment. We will have 3 Bands and feature the music of Shale, Richard Tichelman and the Screaming Eagles along with dance and energizers.
Your event ticket also includes lunch and refreshments, multiple prize draws (including the chance to win an ENVO Lynx 20 E-Bike), lobby activities and ample opportunities to interact and exchange ideas with the speakers.
TEDxSurrey Salon
The lineup and more exciting announcements are coming soon but in the meantime, there will be a one-off TEDxSurrey Salon event with one topic of focus happening in November. Join Kathleen Radu and Guy Felicella as they discuss: "Our overdose crisis is closer than you think".
When: Wednesday, November 9, 2022 7:00pm to 9:00pm (doors 6:30pm)
Where: Surrey Pentecostal Assembly (16870 80 Avenue, Surrey)
Tickets: $15 available online now. Refreshments and free parking available
Get your tickets today and to stay on top of all TEDxSurrey events and news, follow on Facebook.
Miss604 is a sponsor of TEDxSurrey 2023.