This fall, the three-time Grammy Award-winning Soweto Gospel Choir returns to Vancouver as one of two Canadian stops on its North American tour. Presented by Caravan World Rhythms, the group will perform their new concert, "HOPE: It's Been a Long Time Coming", which draws from music that inspired and supported South Africa's Freedom Movement and the American Civil Rights Movement.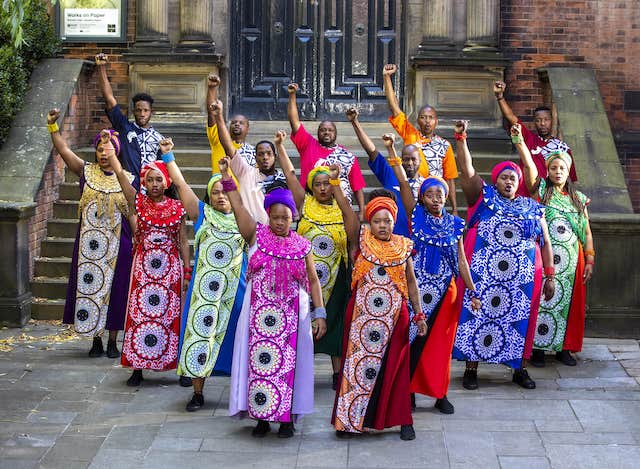 Soweto Gospel Choir in Vancouver
When: Saturday, November 12, 2022 at 8:00pm
Where: Queen Elizabeth Theatre (630 Hamilton St., Vancouver)
Tickets: Available online now
This timely celebration of human resilience will uplift weary audiences after recent years of increasing political and social struggle around the world.
The Soweto Gospel Choir was formed in 2003 in Soweto (South West Township), a town outside of Johannesburg and home of Nelson Mandela and South Africa's democratic movement. They came together just as South Africa was coming out of apartheid. Since then, they have performed at some of the country's biggest events, such as the first of the 46664 AIDS benefit concerts and the 2010 FIFA World Cup, including singing for leaders like Mandela and Archbishop Desmond Tutu.
With this history woven tightly into the choir's fabric, "HOPE: It's Been a Long Time Coming" commemorates South Africa's Freedom Movement and the American Civil Rights Movement through music that inspired and strengthened these events. Audiences will hear South African struggle songs and traditional music, alongside familiar tunes like Marvin Gaye's "What's Going On," Sam Cooke's "A Change is Going to Come" and Ben E. King's "Stand By Me".
The 24-piece Soweto Gospel Choir is comprised of some of South Africa's best vocalists. They have long been renowned for their energizing concerts across the globe and have shared the stage and collaborated with some of the biggest names in contemporary music, including U2, Stevie Wonder, Celine Dion, Red Hot Chili Peppers, and Josh Groban. They perform a range of African gospel, freedom songs, and international classics, through heartfelt renditions that are at once both distinct and familiar. Their arrangements showcase powerful solos and exuberant harmonies, supported by percussion, clapping, and traditional South African dancing.