On November 17th the Covenant House Sleep Out: Executive Edition is back and in person!
The #CHVCatchUp is a monthly series featuring the latest updates and news from Covenant House Vancouver ("CHV"). Miss604 is proud to be the Official Blog Partner of CHV.

Covenant House Sleep Out
One Purpose. One Night. Relentless Support for Youth Experiencing Homelessness.
Sleep Out advocates for the future of young people experiencing homelessness. A community of executives, professional leaders, companies, and individuals give up their bed for one night to ensure that vulnerable young people can sleep safely at Covenant House Vancouver. There are approximately 500-1,000 young people without a safe place to sleep every night in Metro Vancouver. Each of them has a story, a dream, and a future – one that they can build with the support and care from Covenant House Vancouver.
They come to CHV seeking safe shelter, nourishing food, clean clothing, and essential services like job training, education, healthcare, and mental health counselling— tools they need to build independent, sustainable futures. Sleep Out is a way you can encourage, inspire, and support their journeys.
Vancouver and many of its incredible landmarks will be showing support for the event by lighting up in Covenant House colours the week of Sleep Out. Including Vancouver City Hall and Burrard Street Bridge on November 16th and Vancouver Lookout the night of Sleep Out on November 17th. Check out The Northern Light's Display at BC Place's if you are downtown on the morning of November 18th as it will light up in Covenant House blue to greet our young people and sleepers.
A personal experience with Sleep Out
Rebecca participated in the Covenant House Sleep Out for four years: "It was uncomfortable, unnerving, and a long and sleepless night — but that's the point. It's all for an amazing cause and very worthy of your participation. Read about my first experience in 2013 here, which kept me coming back to support the cause."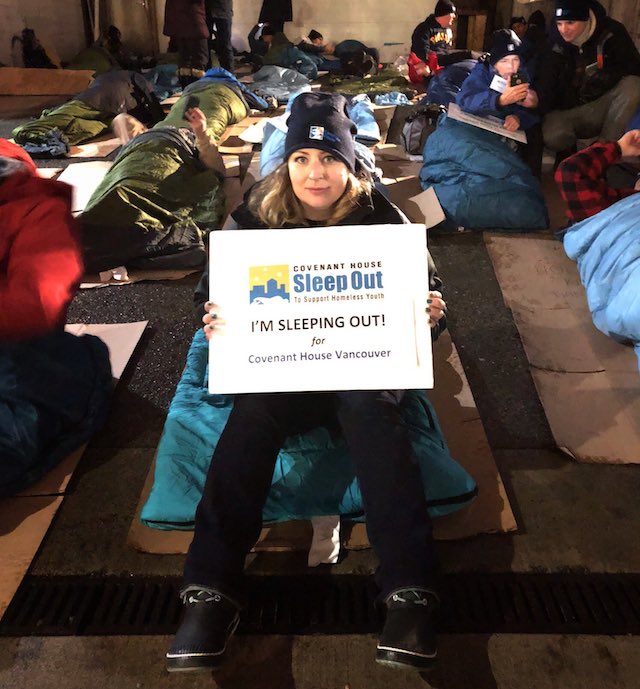 Get involved in Sleep Out: Executive Edition on November 17th
Sleep Out raises funds that allow Covenant House Vancouver to provide 24/7 care for every young person who walks through our doors. And the awareness raised by the Sleep Out movement shines a light on the youth homelessness crisis, urging us closer to a world where everyone has somewhere safe to sleep.
Sign up to Sleep Out: Executive Edition, commit to raising vital funds, and give up your bed for one night on November 17th so youth can find one at Covenant House Vancouver.
If sleeping out is not possible please consider donating to Sleep Out: Executive Edition today and your gift will be matched, dollar for dollar up to $150,000, by George & Sylvia Melville!