After 8 years of digging, on November 4, 1922 a step was unearthed that led to the "find of the century", King Tut's Tomb. Exactly 100 years after this monumental occasion, Beyond King Tut – The Immersive Experience, developed in partnership with the National Geographic Society, has opened in Vancouver for a limited run – and I have tickets to give away!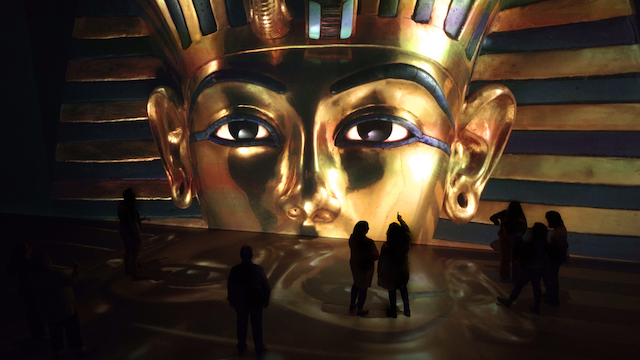 Beyond King Tut is Now Open in Vancouver
When: November 4, 2022 to January 8, 2023 January 14, 2023
Where: Canada Place
Tickets: Available online now

Once you have selected the date and time and ticket type, add @Miss604 to the Promotional Code area for $3 off regular Adult or Children's tickets.
This limited stay in Vancouver is expected to sell out quickly. For tickets and more information visit the website.
With nine galleries to explore, wind through the story of a young boy whose name still looms large, and how he changed the ancient – and modern – world. Meet Ancient Egyptian gods like Ra and Anubis before descending into King Tut's burial chamber and joining his quest for immortality. Relive one of the greatest discoveries of all time – the king's tomb with all his treasures waiting inside, reclaimed from the desert sand after 3,000 years.
The opening of King Tutankhamun's intact tomb 100 years ago captivated the world with its riches and clues about the ancient quest for immortality. Bringing to life the storied archives of the National Geographic Society, this much anticipated exhibition combines the power of cinematic storytelling and soaring imagery to invite visitors into the golden king's world like never before.
Enter to Win
I have a family 4-pack of tickets to give away, here's how you can enter to win:
Win Tickets to Beyond King Tut in Vancouver
Beyond King Tut is produced by Paquin Entertainment Group and Immersive Experiences, including the creative team behind the King Tut artifact exhibitions that attracted millions of visitors around the world between 2004 and 2012, including a showing at the Art Gallery of Ontario. Paquin Entertainment Group's exhibition portfolio includes the acclaimed Beyond Van Gogh and Beyond Monet exhibitions that have attracted more than 3 million visitors around the world. Montreal's world-renowned Normal Studio will bring to life the wonders of ancient and modern Egypt from National Geographic Society's photo and video archives, presenting a journey through Egypt in a way no one else can tell it.
Follow on Facebook and Instagram for the latest updates about the exhibition.
Extended!
Beyond King Tut: The Immersive Experience has extended its run at the Vancouver Convention Centre through to January 14, 2023. Use code LASTCHANCETUT and receive 25% off ticket price on select dates and times.