Bespoke Market, which launched in Squamish in the spring, is hosting its winter edition in Squamish November 11-13. The market showcases creative entrepreneurs including designers, small shop owners and makers where socially conscious shoppers can find a selection of items such as handcrafted jewelry, art, ceramics, slow fashion, curated vintage, wellness brands, and craft foods and beverages.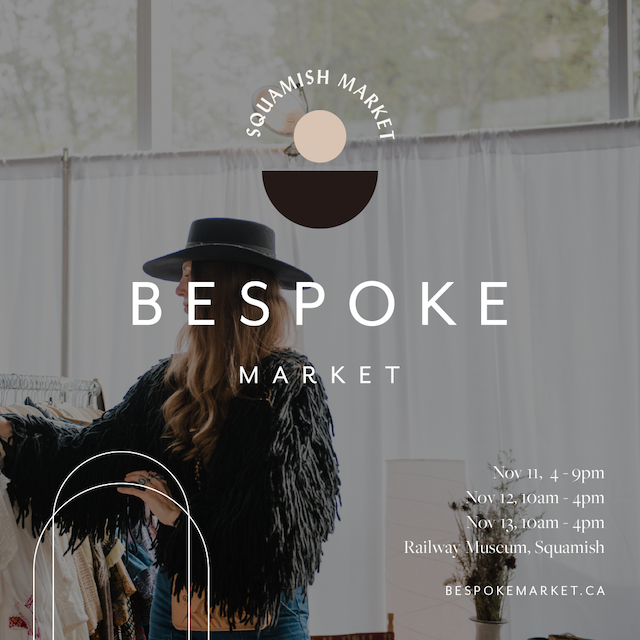 Bespoke Market Squamish Winter 2022
When: November 11-13, 2022

Friday 4:00pm to 9:00pm; Saturday and Sunday 10:00am to 4:00pm

Where: Railway Museum of BC (39645 Government Road, Squamish)
Tickets: Purchase online now, single day and weekend passes available

VIP Shopping experience ($28.92 passes are limited) include a tote bag with a selection of 4-5 swag items.
Cash at door will be available for single-day tickets for $5, seniors $3 and kids under 12 are free.
Confirmed local vendors so far include:
A Simple Homebody
Acorn & Oats
Agnes Wolfe
Amoda
Art of Marina
Bead Mindful Gems
Bellamy Home Studio
Better Basics
Bewildher
Bird
Blackstrap Cloth & Co
Bozzi's Biscotti
Cachette
Cedar
Churi
Coconama Chocolate
Daydream Organics
earth + fibre
Eileen Kiyonaga Artworks
Essentials Eco
Fenntessa
Fox and Ivy Creations
From the Garden Shed
Fuse & Sip
Geojab Bowls
Given and Gather
Glass Cabin Vintage
Graze Wilder
Hapres
Harmonica
Hart & Stone
Hello Sunday
Homecoming
Kactus Blue
Kilig Candle Co
Life Uncommon
Little Bookshop
Little Rituals
Liv Finley Designs
LOA SKIN
Loop Home Goods

Luv the Grub
meNom
Minttu Fibre Arts
Monday May Jewelry
Morningstar Woollen Farm
Muddy Marvels Pottery
Mystic Mountain Vintage
Nate
Olive + Co
Olive & Emy
PALMA Goods
Pemberton Bag Co
Pilot Pet Gear
Raincity Distillery
Raising Humans Co.
RAUW Jewelry
Re:creation
Reminded Designs
Rosaseven
Schoki Chocolate
Shayelily Jewelry
Shoebox Art
Siiri and Stone
Skwalwen Botanicals
Slate Wearables
Slow Circle Studio
Solfeggio Foods
Soufflé Studio
Spruce Collective
studio a ceramics
Sydsicle Ceramics
Tallu & Co
Taylor the Creator
The Burnt Apron
Undun Vintage
Vankoji Foods
Vintage by Choice
We Are Turtle Island
Whimsy Daisy Designs
Yellow Bird Paper Greetings
Zaleska Jewelry
Enter to Win
I have a prize pack to give away that includes $50 to spend at the Bespoke Market in Squamish along with two gift bags. Here's how you can enter to win:
Bespoke Market Squamish Winter 2022
There will also be food trucks on site including Karla's Kettle Corn, Luz Tacos, The Island Oasis, and Teriyaki Boys. Follow on Facebook for more info.