The Vancouver Horror Show Film Festival ("VHS"), now in its fifth year, has announced that it will host the Vancouver premier of Terrifier 2, along with a full hybrid event lineup featuring 61 short films and six feature-length films from 13 different countries.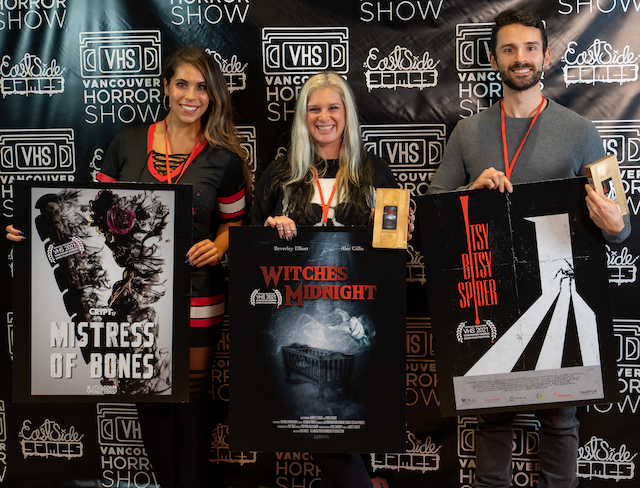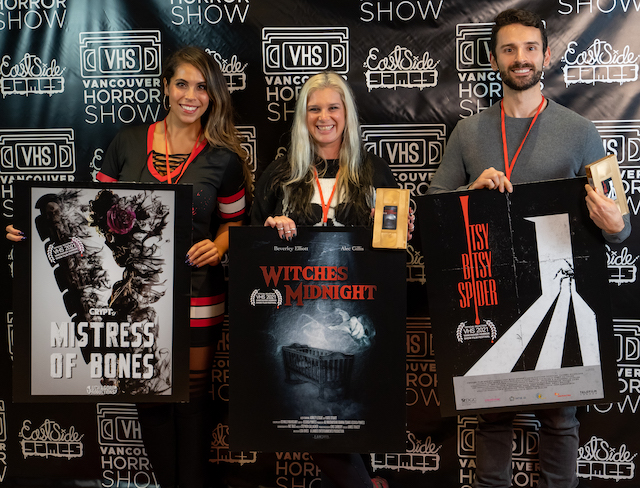 Vancouver Horror Show Film Festival 2022
When: November 5-8, 2022
Where: Fifth Avenue Cinemas, Cineplex Marine Gateway VIP, The Cinematheque
Tickets: Available online now from $24.89 in-person.
The in-person screenings will heavily feature Canadian films – highlighting some outstanding locally made, BC-based projects and featuring filmmaker Q&As after each screening.
Feature Films
Terrifier 2
VHS will host the Vancouver Premiere of Terrifier 2 – Damien Leone's much anticipated sequel to 2016's horror hit Terrifier. The 138-minute-long ultra slasher indie film has played at nearly 900 movie theaters across the United States and is kicking butt in the box office. Terrifier 2 is special in that it's fan-driven. The film wasn't studio-backed, meaning everything was grassroots and done for the love of the film and the genre. A truly unique moment in horror history, and now VHS is bringing it to Vancouver audiences.
Follow Her
Making its Vancouver debut and Canadian premiere at VHS 2022 is Follow Her (USA) from local triple-threat – writer / producer / actor – Dani Barker. Follow Her is a psycho-sexual thriller about Jess Peters, a struggling actress and live streamer who responds to a mysterious classified ad and finds herself trapped in her new boss's twisted revenge fantasy.
Mad Heidi
From Switzerland this year the VHS will premiere Mad Heidi, co-directed by Johannes Hartmann and Sandro Klopfstein, and starring Casper Van Dien, of Starship Troopers fame. Mad Heidi is an action adventure horror comedy based on the famous children's book character Heidi and the very first Swissploitation Film.
Shorts Program – Local
The VHS is proud to be showcasing some truly outstanding home-grown talent from all across this beautiful country. Vancouver-based actor / writer / director Stephanie Izsak's short film Consumer (a top 5 winner in Stage 32's short film competition) – a coming-of-age horror film that follows a tween in the age of social media and examines toxic beauty standards – stars local Vancouver actors Eden Summer Gilmore (Family Law, Nancy Drew, The Good Doctor) and Jill Morrison (Motherland: Fort Salem).
Additionally, Izsak herself stars in Crumbs, a film from writer / director duo Jessey Nelson and W. Cody Nelson – a film about a young boy who summons an imaginary clown to help him deal with trauma.
In The Shadow of God, a riveting film from Vancouver director Brian Sepanzyk stars Sara Canning as a woman who packs up her childhood home following the passing of her father and comes to learn that there may have been a more sinister threat behind his death.
Other local standouts include: Devoured from VHS alumni, director Thomas Cretien starring Nhi Do, Gabe Carter, and Gigi Saul Guererro; Dirty Sally, from director Jack Cox; Love You Mama, from Alexandra Magistro, starring Madeline Arthur (Blockbuster, Snowpiercer, The Magicians) and Samantha Sloyan (The Fall of The House of Usher, Midnight Mass); Julie Bruns' Have You Seen The Witch?; and Ariel Hansen's Damned Supper.
Shorts Program – International
The VHS is proud to showcase films from Norway, Spain, Italy, Netherlands, UK, Russia, Finland, Austria, Sweden, Australia and the US in its 2022 lineup.
VHS Emerging Filmmaker Award
Taking top honors in the Student Film category this year is UBC alum Dustin McGladrey – an emerging Director / Writer from the Nisga'a Nation. McGladrey's latest film, House After, was inspired by his family's experience with residential schools. McGladrey says "This is where I believe a lot of my family's trauma arose from. Through making this film, I faced my own intergenerational trauma as a process of healing."
Vancouver Horror Show Film Festival Program
For full festival lineup, film blocks, showtimes, venues and tickets visit the VHS website.
Founded in 2018, the The VHS is a registered charity with the mission to celebrate great cinematic storytelling in the horror genre. Follow the Vancouver Horror Show Film Festival on Facebook and Instagram for more information.