Word Vancouver, Western Canada's largest free literary arts festival, returns this month with over 70 online and in-person literary events featuring 140 authors. The festival brings book lovers of all ages together with authors, publishers, and other industry professionals.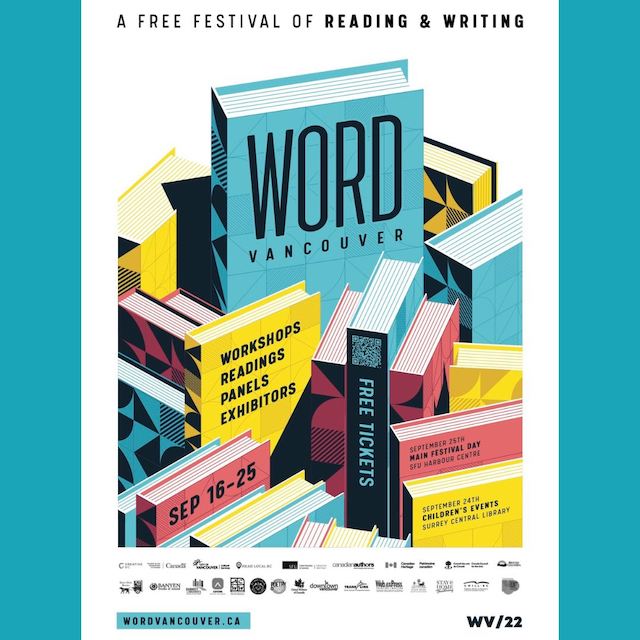 Word Vancouver 2022
When: Online September 16-23, in-person September 24-25, 2022
Where: Online, and in-person at Surrey Central Library and SFU Harbour Centre
Tickets: Get your free ticket online now. Your ticket is good for the entire duration of the festival. Each day you will be sent a reminder of what is coming up for that date.
Enjoy readings by emerging and established authors, attend professional development workshops and panels, and visit a diverse range of exhibitors.
All of the adult readings, panels, workshops and events will be either online from September 16 or in-person with an online (hybrid) component on Sunday September 25th at SFU Harbour Center.
All of children's programs will be on-line from September 19-22 and in person at the Surrey Central Library on Saturday September 24th. Here are some highlights:
There will be Storytelling with Drag Queens is back in person and online. Naomi Steinberg, Goosefeather: Once Upon a Cartographic Adventurer will describe her year of performing her one woman show around the world. Crime writers Charles Demers, Noonday Dark: A Doctor Annick Boudreau Mystery # 2 (Douglas & McIntyre), Iona Whishaw, Framed in Fire: A Lane Winslow Mystery (TouchWood Editions), Sam Wiebe, Hell and Gone: A Wakeland Novel (Harbour Publishing) read from their new novels. Award winning author Kamal Al-Solaylee will talk about his book Return: Why We Go Back to Where We Come From, the tale of his journey home and those of other travellers.
Some events that interest me are Editors Aren't (Always) Evil in-person on September 25th, having taken on the technical editing of three books so far this year myself, and online the Muriel's Journey Poetry Awards online September 17th where my good friend Dave Olson will be doing a reading from Japan.
You can view the full online event schedule here, and in-person events here. Follow on Facebook for the latest festival news.