The annual CIBC Run for the Cure in Vancouver, where you can run 5km or walk 1km for the Canadian Cancer Society, takes place October 2nd. Register and fundraise to join thousands across Canada supporting Breast Cancer Research.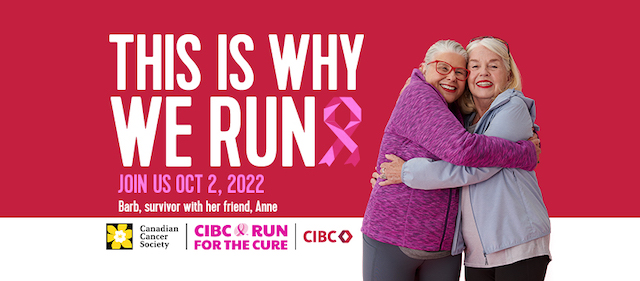 Run for the Cure in Vancouver 2022
When: Sunday, October 2, 2022 7:30am to 11:30am
Where: Concord Community Park (50 Pacific Blvd, Vancouver)
When you join or support the CIBC Run for the Cure, you help provide hope to all Canadians impacted by breast cancer. In 2021, your support helped the organization: provide connection and support to more than 210,000 people through their online community; provide trusted information and compassionate support to 44,000+ Canadians through the Cancer Information Helpline; bring thousands of people to their cancer treatments, whether they required transportation assistance or a stay in one of the warm, supportive lodges; help launch the Centre for Cancer Prevention and Support (CCPS) to take discoveries from the lab to life faster, and much more.
This is the largest single-day, volunteer-led event in Canada in support of the breast cancer cause. The generous support of volunteers helps to keep costs down, which directs more money to the Canadian Cancer Society to fund groundbreaking breast cancer research, compassionate support services, trusted cancer information and advocacy on behalf of all Canadians.
There are helpful fundraising tools available online and if you can't make it in person, you can also download the Run for the Cure app and run anywhere, anytime. There are also some fun incentives, awards, and prizes up for grabs for fundraisers and runners.
Related: Read for the Cure 2022 Vancouver