Visit Haunted Sea, the annual Halloween installation at the historic Gulf of Georgia Cannery in Steveston this October. Explore the darkest depths of the ocean and uncover what is haunting it as you walk amongst colourful creatures and aquatic displays made from upcycled materials.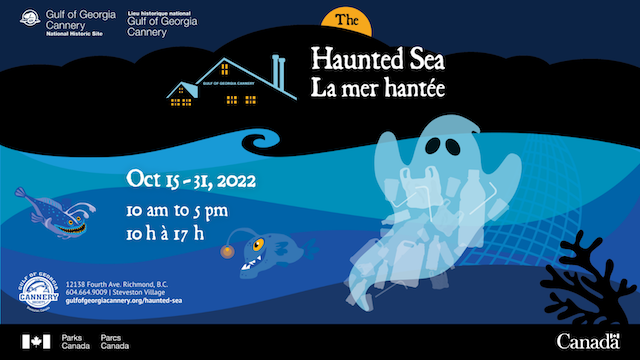 Halloween at Gulf of Georgia Cannery
While you're there for Haunted Sea, you can also check out: Stories of the people who worked in the canneries along Canada's west coast from the late 1800s to early 1900s, and learn about the history of the salmon canning process; learn about the Pacific Herring, the "fish that feeds the coast", and how this important west coast resource led to the transformation of the Cannery into a Herring Reduction Plant; and explore the development of fishing technology on Canada's West Coast.  Discover how fishing methods have changed over time, and how the technology has affected the sustainability of our seafood resources and marine environment.
There's also Waves of Innovation, a feature on the stories of innovation in the West Coast commercial fishing industry and the effects on their communities. The cause and effect of changes in energy, preservation, and fishing methods, and their impacts on people's lives are explored throughout this interactive exhibit.
The Gulf of Georgia Cannery Society also cares for over 7,500 artifacts in two collections: one belonging to Parks Canada, and the other to the Society. In addition to these objects, there is a library and an archive of historic documents, images, sound recordings, and reference books.