One of the most anticipated seasonal events of the year, the Cranberry Festival in Fort Langley, is coming up on October 8th. Now in its 27th year, this incredibly popular local festival starts off with a pancake breakfast in the morning, followed by a marketplace throughout the village featuring 100 vendors, 16 food trucks, and a full day of live entertainment.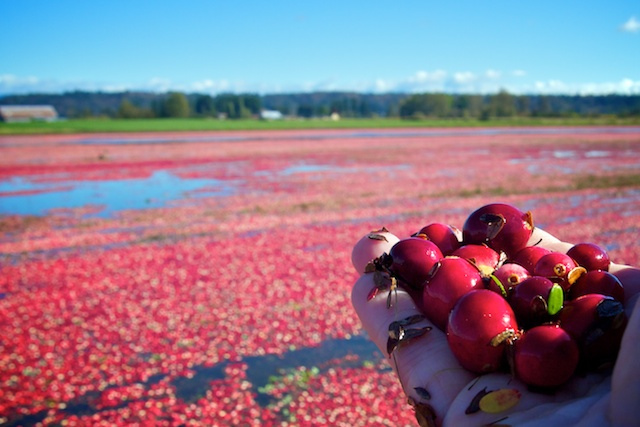 Cranberry Festival in Fort Langley
When: Saturday, October 8, 2022 10:00am to 4:00pm

Pancake breakfast starts at 9:30am

Where: Glover Road, Fort Langley Village
Festival Admission: Free (RSVP to get info here)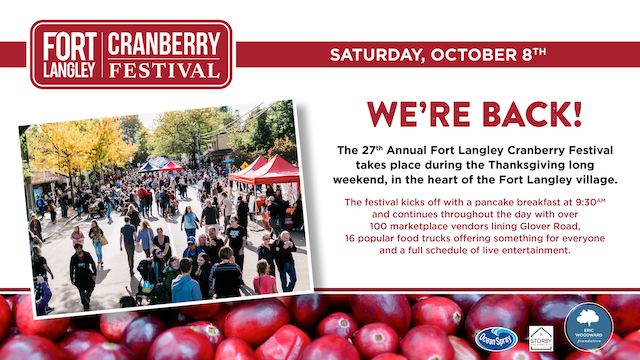 The Cranberry Festival was started in 1995 to celebrate the annual harvest and the history of the cranberry in the area and Fort Langley's earlier years.
At Fort Langley National Historic Site
October 8, 2022 from 10:00am to 5:00pm – Free Admission
Celebrate cranberries at Fort Langley National Historic Site while learning the history of local uses of native cranberries by Indigenous people. Put on rubber boots and jump into the popular cranberry stomp, as well as other farm-related games. Stroll to/from the Cranberry Festival market in the village.  
About BC Cranberries
The cranberry is one of only three commercially-grown fruits that are native to North America.
Traditionally, cranberries were popular trading commodities at Fort Langley as local First Nations used them for food, dyes, and medicine. In 1858, cranberries were valued more highly than salmon in these trades.
Of all the cranberries harvested in Canada every year, about 60% are grown for Massachusetts-based Ocean Spray, to which most BC cranberry growers belong as a cooperative — as a result 90% of BC cranberries are shipped to the USA.
Approximately 50% of BC's crop is used to make sweetened dried cranberries, 40% is made into juice, 9% is sold whole frozen and 1% is sold fresh, according to the Government of BC.