City Opera Vancouver presents Chinatown, the company's fifth commission in ten years, September 13-17, 2022 at the Vancouver Playhouse. This is a ground-breaking new work comes at a time of anti-Asian racism, a struggle to preserve Chinatown itself, and a need to tell the Canadian story it embodies.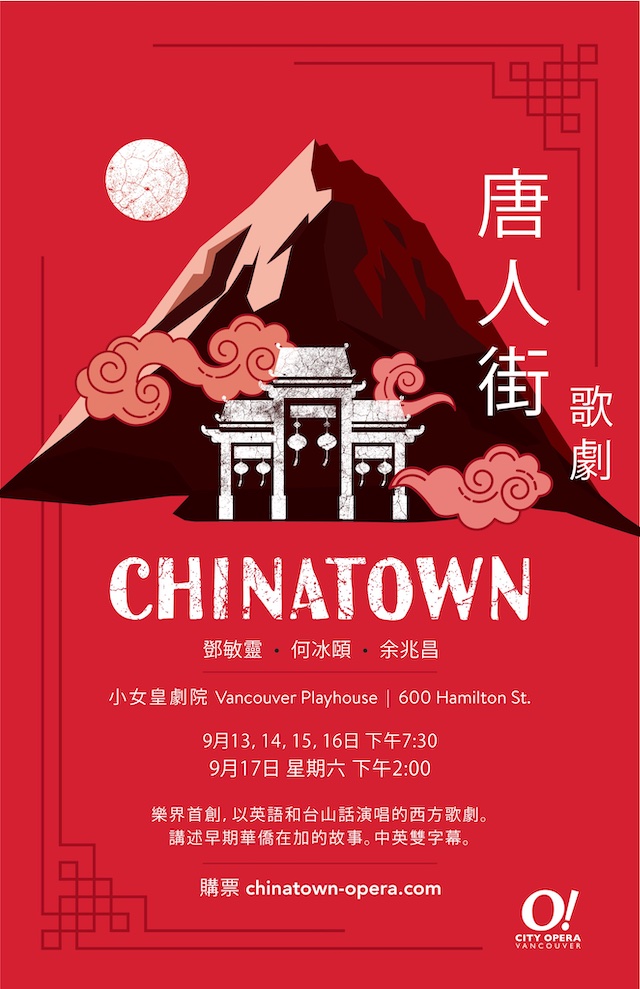 City Opera Vancouver Presents Chinatown
When: September 13 to 16, 2022 at 7:30pm; September 17 at 2:00pm
Where: The Vancouver Playhouse (600 Hamilton St, Vancouver)
Tickets: Available online now for $20-$60 (plus taxes & fees)
Chinatown builds on the eloquence of one of Canada's greatest writers, Madeleine Thien, the music of award-winning composer Alice Ping Yee Ho, and the subtle and brilliant translations of Paul Yee.
"Although a Western opera, it incorporates traditional Chinese themes, sounds and sensibilities," says City Opera's artistic director Charles Barber. "It is a story of racism and resistance, neighbourhood and family. And it is a love story. It will have wide appeal."
The fusion orchestra plays both Chinese and Western instruments. English and Chinese supertitles will be provided throughout.
"In two acts and two hours it examines six characters, two families, and a chorus of ghosts, from the building of the CPR through to our own times," adds Barber. "It deals with violence and despair, the Head Tax, the Exclusion Act, paper sons, and paper promises. This opera is a story of family and neighbourhood, racism and resistance, history and tomorrow."
Chinatown is the first opera written about any Chinatown in Canada and is believed to be the first opera written in English, Cantonese, and Hoisan combined. This will be City Opera's first presentation at the Playhouse Theatre, chosen partly because of its proximity to Chinatown.
Staged Concert Format
Originally conceived as a full-scale production and delayed one year by COVID, City Opera recently announced that due to casting and production issues, Chinatown will now give a complete presentation of the opera, but in a staged concert format.
The company was unable to acquire the services of the additional cast members needed and to resolve related production issues. Running out of time to offer the version originally intended, this revised format is the best-possible solution available in this complicated environment. The only alternative would have been to postpone it another year.
All the elements of this meaningful and timely opera are intact, and stage director Desdemona Chiang will bring an active energy and imagination to the production.
Current ticket-holders who would prefer not to see this revised presentation are invited to contact 1-888-961-6111 ext. 101 to arrange their choice of a full refund, or a voucher of identical value for a future production.
There will also be a free event, Finding Chinatown, on opening day September 13th at the CNL Auditorium (537 Main St, Vancouver).