stɑl̓əw̓ Arts and Cultural Society presents the first annual stɑl̓əw̓ Pow Wow, an immersive three-day cultural experience. This event will share, honour and celebrate rich Indigenous culture, as well as build important and lasting connections.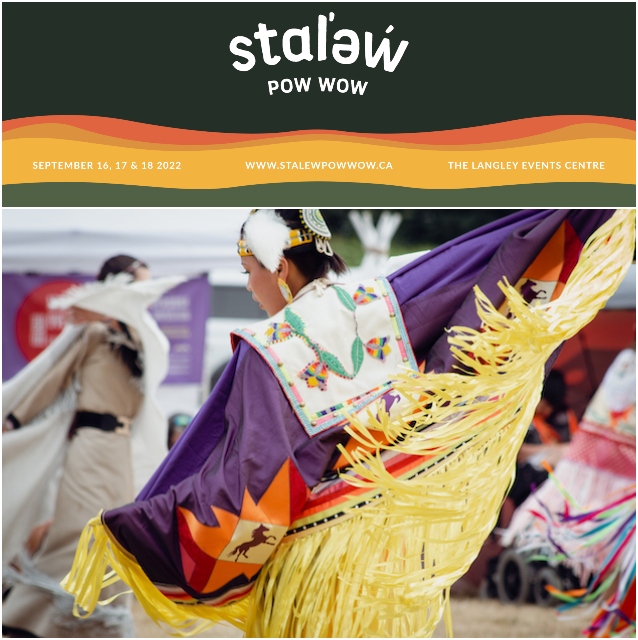 stɑl̓əw̓ – or "big river" in the hən̓q̓əmin̓əm̓ language– reflects the deep connections local Indigenous communities have to what is known today as the Fraser River. The river connects us to one another and to the lands we call home.
stɑl̓əw̓ Pow Wow in Langley
When: September 16-18, 2022
Where: Langley Events Centre (7888 – 200 St, Langley)
Tickets: Single day and weekend passes are available online now
Pow wow competitors will be coming together to sing, dance, drum, and fully engage in their artistic and cultural gifts. These gifts demonstrate the intergenerational and interconnectedness of Indigenous culture through a variety of traditional dances and practices.
In addition to a variety of cultural programming, stɑl̓əw̓ will be hosting 50+ Indigenous vendors. Vendors will be onsite to provide authentic Indigenous food, arts and crafts for purchase and enjoyment by all.
During the pow wow, drumming, singing, and dancing are all healing practices, gathering attendees to be of one heart and one mind.
View a complete schedule of events online here. The stɑl̓əw̓ Pow Wow is organized by stɑl̓əw̓ Arts and Cultural Society in partnership with the Township of Langley.
stɑl̓əw̓ Arts and Cultural Society is an Indigenous women-led registered charity, dedicated to advocacy and empowering Indigenous artists living in the Coast Salish territories. The Society is opening the doors for all to enjoy in what is expected to be a memorable and educational experience. All are welcome at this inclusive event, regardless of race, gender, ability, or culture.