With the Taste of Abby Fall Food Festival September 9-18, 2022, you can explore a selection of food and agricultural events, learn about Abbotsford's diverse food culture, and delight in delicious culinary cultivations. This inaugural celebration features a variety of events, from a night market to a food security and sustainability video series, seasonal experiences around the region, and more.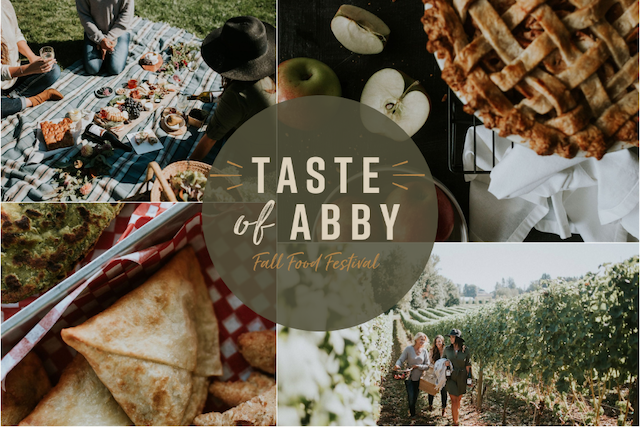 Taste of Abby Fall Food Festival
Night Market
When: September 9, 2022 5:00pm to 10:00pm
Where: Jubilee Park (2552 McCallum Rd, Abbotsford)
Tickets: Available online now
Festivities include live music, artisan shopping, and over 100 unique voices including farmers, chefs and wine, beer, and cider makers. Interested guests are to visit the admissions page. The ticket price includes general admission and eight tokens for small food plates and beverages.
Food Security, Food Sustainability, and Ag-Tech Conversations
When: September 11, 2022
Where: Online
A Youtube video series launch of solutions-forward presentations: Archway Community Services Urban Farm; vertical agriculture in local and regional food systems; food systems vulnerabilities in the Fraser Valley revealed by the pandemic; agri-tech incubator and accelerator programs; the Abbotsford Food Asset Map; and local cellular agriculture.
Abbotsford Block Party Food Truck Fest
When: September 16-18, 2022
Where: Abbotsford Exhibition Park (32470 Haida Drive, Abbotsford)
Tickets: Free Entry
Food trucks, amusement park rides, live music, and a shop local marketplace.
From September 9-18 you can also enjoy seasonal experiences with Abbotsford's dedicated farmers and featured collaborations, menus, and promotions by passionate chefs and business owners. View the full list of events online and follow Tourism Abbotsford on Facebook, Twitter, and Instagram. For