A family in Delta has grown an entire field of 15,000 sunflowers that they are picking and selling this week in support of Canuck Place.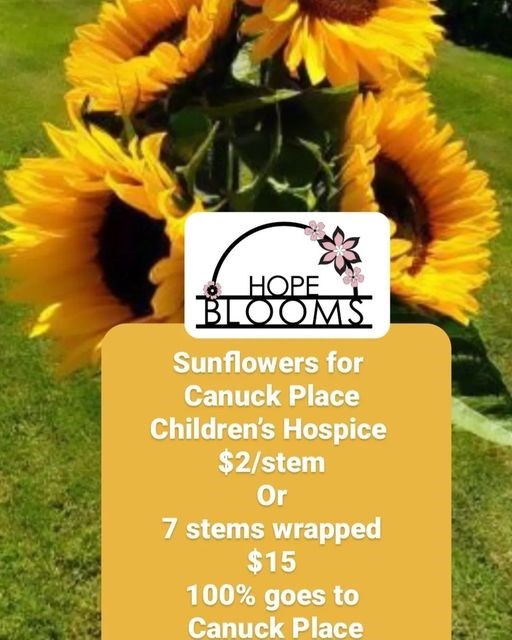 Sunflowers on Sale for Canuck Place
Where: 4295 96 St, Delta
When: All week until the field is picked
Cost: $2 a stem or 7 stems wrapped for $15, 100% goes to Canuck Place
Stephanie Hill Davie, whose son is in a Canuck Place Children's Hospice program, wrote on Instagram:
Last year I made a post about mason jars for flowers I donated flowers to seniors in long term care. That post connected me with a Ladner resident. Carla's mom had recently passed away and had an assortment of jars she wanted to donate so they could go on and make others smile.

Not long after that message I drove from our farm to pick them up. We talked and I shared that I had a dream of a sunflower field and growing an entire field to donate to Canuck Place Children's Hospice. My son is on their program. I didn't know Carla let alone what she did for a living but after sharing my dream she told me. A few days later Carla called me Her boss approved 15,000 sunflower seeds FREE of charge. I had hoped to get them out that same year but it wasn't in the cards. This wet spring delayed things for all farmers and in addition our son moved to hospice for 5 weeks. He returned home April 17. It wasn't until June until we got those seeds in the ground. I never thought Owen would be here to see us harvest those sunnies but they will be ready very soon.

Stephanie Hill Davie
"Let's all help Owen sell these sunflowers and give back to the one place that has supported him and his family on this journey of life."
The goal is to raise $30,000 for Canuck Hospice, and to make the fundraiser an annual event. More info can be found on Stephanie's Instagram. eTransfers can be made to hopebloomsdelta[at]gmail[dot]com if you'd simply like to contribute or you can donate directly to Canuck Place.
For over 25 years, Canuck Place has been providing exceptional complex medical care, while helping children and families embrace living fully with the time they have left together. Canuck Place operates 13 patient beds and 8 family suites through two hospices in Vancouver and Abbotsford. Services include medical respite and family support, pain and symptom management, provincial 24-hour clinical care line, music and recreation therapy, education and art, grief, loss, and bereavement counselling, as well as end-of-life care.
Related: Canuck Place Fall 50/50 Raffle