Sage & Solace Farm (formerly Early Bird Family Farm) is a beautiful 20-acre property located in the Township of Langley. You may have seen dreamy photos from weddings, workshops or private events on Instagram and this summer you can visit this contemporary farmhouse teeming with old-world farm charm. They have a lineup of events this month and you enter to win your way into one of them!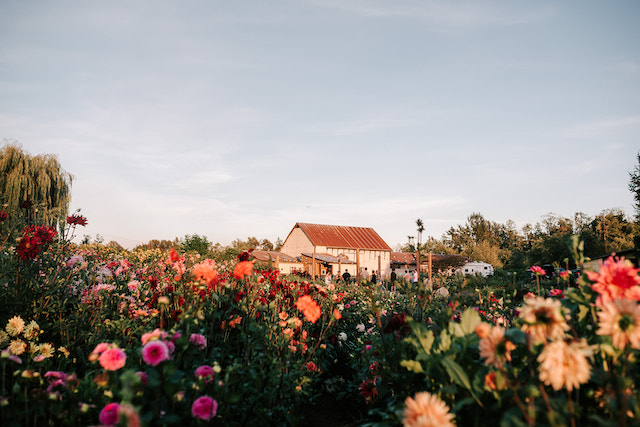 Sage & Solace Farm in Langley
Owner-operator Barbara Pearson and her family cultivate heritage varieties of flowers, dairy goats, chickens, ducks and geese that roam the property. "What began as a love for a simpler time has grown into a unique venue that delights the senses," says Pearson. "It creates a wholesome place where our visitors can let go of their cares and find some room to breathe."
Upcoming Events
Date Night on a Flower Farm
Saturday, August 6 from 6:00pm to 9:00pm
Get Tickets $160.15 per pair
Treat yourself and someone special to a beautiful evening that includes a three-course gourmet picnic prepared by local chef Adrian Beaty (from Salt & Thyme), as well as live music by alto sax player David Hampson – all in a gorgeous flower-farm setting. The gourmet picnic includes a grazing box featuring tzatziki, hummus, olives, feta, seasonal pickle, and breadsticks; salad niçoise with Albacore tuna confit; lemon- and herb-brined chicken breast with herb-roasted vegetables; and a summer fruit croustade for dessert. Each guest will also receive a glass of wine. As a special treat, at the end of the evening each pair will receive a hand-tied custom-designed bouquet of organically grown flowers. Local photographer Megan Ashley will be on site to capture photos for purchase.
Country Celebration
Saturday, August 20 from 5:30pm to 9:30pm
Get Tickets $160.15 per pair
This gourmet western-themed four-course picnic will feature live country music performed by Emily Taylor Adams as well as line-dancing lessons and prizes. Your gourmet country picnic prepared by local chef Adrian Beaty (from Salt & Thyme), includes house trail mix; maple-bacon cornbread; coffee-rubbed bavette steak; "Cowboy Caviar" salad; smoked leg of chicken with whiskey peach BBQ glaze; country potato salad; and Texas cowboy cake. A cash bar will also be available. Professional photographer Emily Marazzi will be on site to capture you and your companion.
Fraser Valley Sun & Soil Concert Series
Saturday, August 27 from 6:00pm to 9:00pm
Get Tickets $130 per pair
This concert series, held at various locations, celebrates the Fraser Valley's unique natural beauty and highlights all the talents found within the valley by featuring local musicians, local farms and local food for an intimate and flavourful concert experience. This Langley edition features a 90-minute performance by local musician Kyler Pierce. Your concert experience is accompanied by a bottle of red or white wine from Backyard Vineyards, plus a charcuterie box for two from Salt & Thyme. While there will be some chairs provided, guests are encouraged to bring their own lawn chairs and/or picnic blankets.
Enter to Win
I have tickets to give away (one winner/a pair of tickets) to the Country Celebration at Sage & Solace Farm on August 20th. Here's how you can enter to win:
Country Celebration at Sage & Solace Farm