91 years of life experience are woven into storied author and Jewish Seniors activist Gloria Levi's The Hotelkeeper's Daughter, a self-published novel spanning world histories, circling around a quintessentially Jewish story that connects with all ages. Part autobiography, part historical fiction, the novel dances between post-war Jewish New York & present-day Gabriola, BC.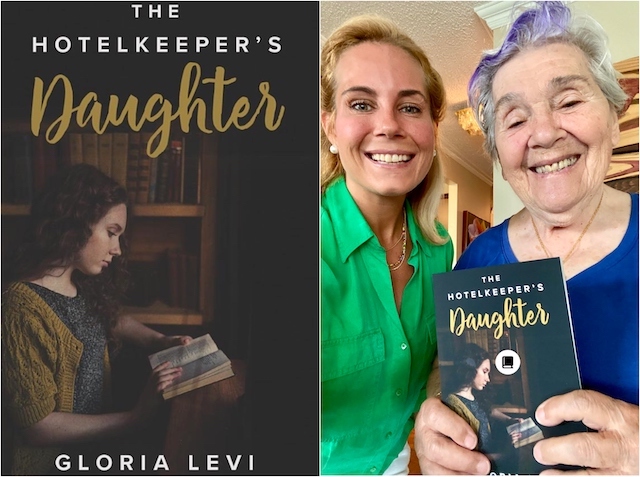 Gloria Levi's The Hotelkeeper's Daughter
The novel explores the interconnected lives of Goldie's family, growing up in post-WWII New York. On bringing the stories and characters to life, Levi explains, "I tried to paint the milieu of the times; the lives of ordinary immigrants, the color and depth of their culture, the struggles and clashes of different generations."
Levi is an author, politician, social activist, adventurer, and is to be honoured by the Jewish Seniors Alliance this October for a lifetime of activism on behalf of seniors. She has been writing novels over the last four decades, having published a widely distributed six book series, the Challenges of Later Life (1992), and other novels exploring our relationships to history as it pertains to memory, identity.
Her interest in gerontology began with her work in the Golden Age Club at the JCC in 1966. She has contributed to the field of gerontology for more than thirty years and has served as a recreation worker, trainer, consultant, coordinator of volunteers, social worker, and writer in the field.
Inspiration for her latest novel was sparked by a simple question from her oldest son, David, on how her/Goldie's parents got into the hotel business. Weaving in and out of the past and into present-day Gabriola rooted in family, The Hotelkeeper's Daughter is: "a Jewish story and a universal one. Everything on this planet is interconnected. We are all one! I hope a reader takes away from the story a sense of compassion for the complexity and the need for expanded self-awareness, for the ability to constantly grow our consciousness."  
The inspiring nonagenarian will host a book launch event in Vancouver on September 11, 2022. The Hotelkeeper's Daughter is currently available on Amazon and is expected to be in bookstores across the country this fall.
Enter to Win
You can also enter to win a copy of the novel by leaving a comment on this blog post. I will draw one winner at random from all entries at 12:00pm on Tuesday, September 6, 2022.