Seeing BC ingredients and the names of local farms you love on a menu at a chain restaurant is like randomly running into a dear friend while traveling. What a lovely surprise – you're both so glad to be there together! But we all know that White Spot isn't just any chain, they are BC's restaurant so it's absolutely no surprise that they would feature farmers, bakers, cheesemakers, and more on their Celebrate BC menu.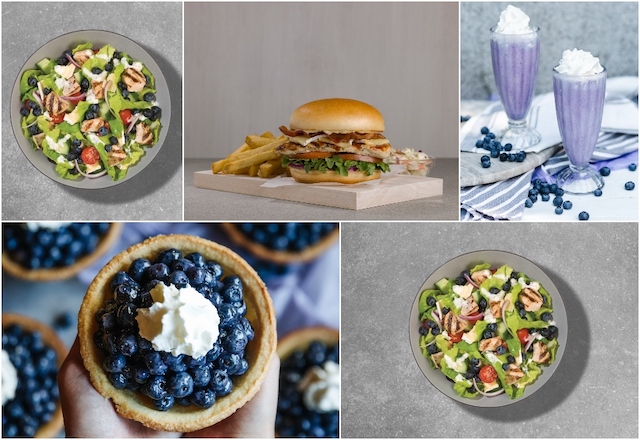 Celebrate BC with White Spot
"The variety, quality, and freshness of BC ingredients are at their peak this time of year," said Executive Chef James Kennedy. "It made it such a joy for the Culinary team and I to create the food for this new menu."
On the roster is the new BC Brie & Bacon BBQ Chicken Burger, made with fresh BC chicken breast and topped with brie from Golden Ears Cheesecrafters; while the Steelhead Florentine spotlights Ocean Wise steelhead caught in Lois Lake. The new BC Summer Salad features a cornucopia of locally grown produce, and back by popular demand, the famous fresh BC Blueberry Pie is made with blueberries sourced entirely through Silver Valley Farms in Maple Ridge, and grown throughout the Fraser Valley. And it's not only the food — at White Spot, guests will find a bevy of locally-produced beverages, including a selection of exclusively featured 100% BC VQA wines as well as local craft beers and ice cream for their famous milkshakes.
More local ingredients on the menu:
100% Fresh Canadian beef on White Spot burgers;
Fresh BC chicken breast for burgers, salads and pastas;
Locally baked artisan style buns made with real ingredients: eggs, butter, milk, locally milled wheat;
Naturally smoked Canadian bacon on burgers and Canadian back bacon at breakfast;
Coleslaw made with local cabbage;

Enough locally grown zucchini for zoo sticks to stretch longer than 27,000 football fields;

BC dairy for hand-scooped milkshakes, milk, butter and more;
Canadian cheese including aged Cheddar;
Tomatoes ripened on the vine in BC ;
BC mushrooms and cucumbers;
100% B.C. VQA Wine and local craft beer on the beverage menu;
Ocean Wise Steelhead sustainably raised and caught from the deep, cold, clean waters of Lois Lake;
Fresh BC Blueberries sourced through Silver Valley Farms in Maple Ridge, and grown throughout the Fraser Valley;
Golden Ears Cheesecrafters Brie, Maple Ridge;
Locally grown butter lettuce.
The Celebrate BC menu showcasing local ingredients at all White Spot Restaurant locations across British Columbia until September 4.
Enter to Win
I'm thrilled to be able to offer a $100 White Spot gift card to give away, here's how you can enter to win:
Win a $100 White Spot Gift Card
I also just have to mention that outside of the restaurant setting, I run into more White Spot team members at charity events than any other gathering – their heart and soul lies in BC communities and they really mean it when they say they want to Celebrate BC!