The South Asian Arts Society has announced the dates, events, shows and schedule for the seventh annual Monsoon Festival of the Performing Arts this August. The festival celebrates South Asian art in the world, offering a diversity of great programming options. Festival attendees will experience theatre, music and dance, a marketplace of visual art, dance classes, fascinating development workshops and more.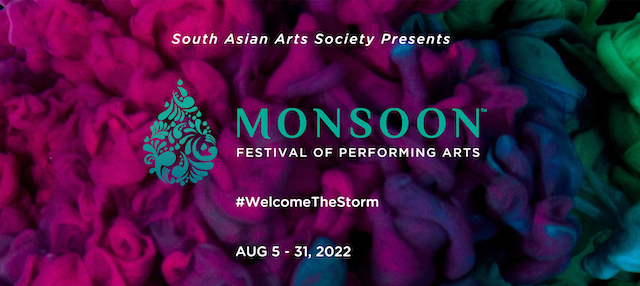 Monsoon Festival of Performing Arts
This year, Monsoon Festival's feature event is the premiere of a theatre production mounted exclusively for Monsoon 2022.
Dooja Ghar (The Other House) -A Mirza Sahiban Story
When: Friday, August 5 (Opening Night) & August 6, 7, 12-14 7:30-9:00pm
Where: Campbell Valley Red Barn (1065 224 St, Langley)
Admission: Tickets available now for $20
The festival proudly presents a new interpretation of Mirza-Sahiban by Pilu, which is one of the most popular tragic romance stories of Punjab. This moving folktale has been told and re-told for hundreds of years. It's the powerful story of Mirza, the valiant warrior, who defies all odds and conventions to save his lover-in-distress, Sahiban, from a forced marriage on the day of her wedding – only to be tragically betrayed by her.
Playwrights Paneet Singh and Andy Kalirai have crafted an illuminating reimagining of this age-old story for modern times – a version of the tale that's much closer to home that you'd think.
Monsoon Marketplace
Launching August 5 and running online until August 31, the Monsoon Festival website hosts the work of a range of talented visual artists, each offering their artwork for sale.
Punjabi Market LIVE!
When: Sunday, August 21 from 2:00pm to 6:00pm
Where: Punjabi Market (corner of Main St. & 49th Ave in Vancouver)
Admission: Free
In partnership with the Punjabi Market Collective, Monsoon brings dance, music, visual art, cuisine, fashion, and more to the streets of Vancouver's historic Punjabi Market for a free outdoor celebration.
Industry Series
Monsoon offers a series of community-based initiatives that are excellent opportunities for participants to both view art and become immersed in the artistic process. Participants can sign up for a free dance lesson or workshop, and spark their creative juices.
Sunday Funday Dance Lessons
Participants get their week started right with new dance moves that will get their blood flowing – no experience necessary. On three Sundays in August, Monsoon's free dance lessons are led by renowned dance artists in a variety of different dance styles.
Sunday, August 7, 10:00am to 11:00am
Bollywood Dance Lesson with Karima Essa (All Ages)
Sunday, August 14, 10:00am to 11:00am
Bhangra Dance Lesson with Raja Singh (Ages 16+)
Sunday, August 21, 10:00am to 11:00am
Bharatanatyam Dance Lesson with Sudnya Mulye (Ages 7+)
Where: Richmond Arts Centre, 7700 Minoru Gate, Richmond, BC
Admission: Entrance is free or by donation. Sign-up is required online in advance.
Workshop Wednesdays
Workshop Wednesdays are free community-based development workshops that offer a great chance to learn valuable skills from accomplished industry professionals. These workshops are a vital component of the Monsoon Festival of Performing Arts every year. Check out the lineup and register in advance online.
The welcoming of the captivating and spiritual force of the monsoon in India dates back thousands of years. Vancouver is also known for its rainfall. With the intersection of these two natural phenomena, the goal of the South Asian Arts Society is to celebrate the monsoon in the Lower Mainland through the presentation of the multidisciplinary Monsoon Festival of Performing Arts. Launched in 2016, the festival provides South Asian artists with the opportunity to experiment and present their creative work, and to share and learn from some of the most accomplished artists in the industry.
Follow on Facebook and #MonsoonArtsFest2022 for festival updates.
Find more affordable events and activities around Vancouver this summer here.