One of the very best parts of summer is back, thanks to the City of Burnaby, as free outdoor movies, entertainment, and concerts return to public spaces and local parks this season.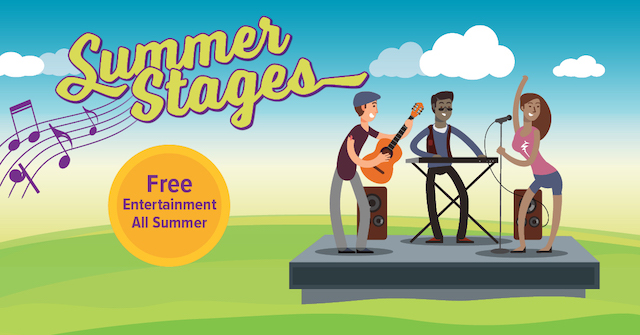 Family Entertainment for All Ages
Entertainment weekly from July 4 to September 1, 2022

Mondays to Thursdays at Confederation Park (4709 Pandora St, Burnaby) beside the water park
Top-notch family friendly entertainers, including the Blues Berries, a unique hybrid of blues and children's tunes, Vancouver Puppet Theatre, Cosmo's Clown Circus Show, Kellie Haines Ventriloquist, traditional and contemporary Métis dance group V'ni Dansi, well known children's entertainer Will Stroet and the energetic Axe Capoeira acrobatic dance troupe will take the stage as part of the Burnaby Summer Stages series.
For a full list of performances check out the Summer Stages website.
Free Outdoor Movies in Burnaby
Summer Cinema is every Friday starting August 12 until September 2
Civic Square (6100 Willingdon Ave, Burnaby)
Movies start at 8:30pm, rain or shine
Every Friday, families can enjoy great movies such as Clifford the Big Red Dog (August 12), Paddington 2 (August 19), Shaun the Sheep Movie (August 26), and Ron's Gone Wrong (September 2). New this year will be movie night showcasing The Lego Movie on Saturday, August 20 at Edmonds Park (7433 Humphries Ave).
Free Pop-Up Performances
Look for more live music in public spaces as part of Sounds Like Summer, with outdoor entertainment popping up June 30 to September 4.
From Central Park to Maple Grove Park, Lou Moro Park to Avondale Park, Willingdon Heights, and Edmonds Youth Centre, make sure to check out the full schedule of free pop-up performances online here.
For more information, be sure to follow the City of Burnaby on Twitter, Facebook, and Instagram for the latest updates on what they have planned this summer.