Summer day camps in Stanley Park are back! EcoCamps are presented by the Stanley Park Ecology Society ("SPES") over ten weeks, each with a different theme focusing on ecology and conservation. They're a great way for children to learn outdoor skills, spend time in nature, and uncover the mysteries of the natural world.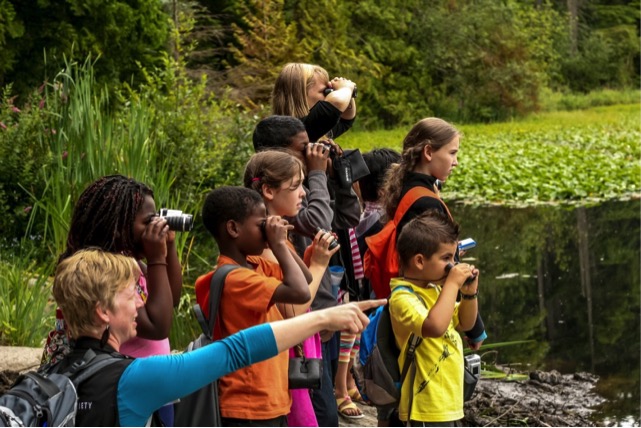 Summer Day Camps in Stanley Park
SPES EcoCamps Schedule
The EcoCamps will run daily, Monday to Friday, from 9:00am to 4:00pm, and the EcoTots program will run Thursdays from 1:30pm to 2:30pm.
July 11 to 15, 2022 Flying Wonders (age 7 to 11) 
July 18 to 22, 2022 Art in the Park (age 7 to 11) – Sold Out
July 25 to 29, 2022 Animal Detectives (age 6 to 8) 
NEW: July 25 to 29, 2022 EcoLeaders (age 11 to 14)
Aug 2 to 5, 2022 Wild about Water (age 7 to 11) 
Aug 8 to 12, 2022 Forest Explorers (age 7 to 11) 
Aug 15 to 19, 2022 EcoStewards (age 9 to 12)
 Aug 22 to Aug 26, 2022 Art in the Park (age 7 to 11) 
Aug 29 to Sept 2, 2022 Stanley Park Survivor (age 7 to 11)
NEW: Aug 4th, 11th, 18th, 25th – EcoTots (age 2 to 4 with parent/guardian)
Register online here
EcoTot Fees: $140
EcoCamp Fees: Members $270, Non- Members $310
Not a member? You can sign up as an individual or family here)
Campers will embark on an exciting educational adventure among the giant trees, sandy beaches and hidden wetlands of Stanley Park. They will spot migrating waterfowl, search for signs of flying squirrels and beavers, explore the patterns of nature, and find buried treasure – all while spending valuable time outdoors.
These camps often sell out and can be a favourite part of many children's springs or summers. With one week already sold out there spots are bound to fill up fast so register today.
For more information about Stanley Park EcoCamps and other SPES programs, follow along on Facebook and Instagram.
Stanley Park Ecology Society promotes awareness of and respect for the natural world through collaborative leadership in environmental education, research, and conservation in Stanley Park. Miss604's Rebecca Bollwitt is a Board Executive of SPES.