Canada Together at Canada Place is a free multi-stage waterfront event with music, cultural performances, food trucks, exhibits and more happening July 1st. Planned collaboratively with representatives from the Musqueam, Squamish, and Tsleil-Waututh Nations.
Canada Together at Canada Place
Date: Friday, July 1, 2022 11:00am to 6:00pm
Location: The outdoor spaces at Canada Place, Jack Poole Plaza, and surrounding city streets. Please note there will be no indoor programming inside Canada Place.
2022 marks the 36th annual event at Canada Place at the Port of Vancouver, which has historically been the largest Canada Day celebration outside Ottawa. It also marks the beginning of a new direction for the event.
Schedule of Events
MAIN STAGE
| | |
| --- | --- |
| 11:00am | Indigenous blessing and welcome |
| 11:30am | Storytelling with Swo-wo Gabriel |
| 11:45am | Carsen Gray |
| 11:20am | Storytelling with Alec Dan |
| 12:35pm | Chief Dr. Robert Joseph, Reconciliation Canada |
| 1:20pm | Bitterly Divine |
| 2:10pm | Omega Mighty |
| 3:00pm | The Boom Booms |
| 4:45pm | Johnny Reid |
WORLD STAGE hosted by DJ O Show (North Point of Canada Place)
| | |
| --- | --- |
| 11:30am | Zeellia |
| 12:10pm | United Filipino Canadian Associations in British Columbia |
| 12:50pm | Samba Fusion |
| 1:25pm | Storytelling with Alec Dan |
| 1:35pm | Tsatsu Stalqayu (Coastal Wolf Pack) |
| 2:20pm | Aché Brasil |
| 3:15pm | Alpha Yaya Diallo |
| 4:15pm | Lazy Syrup Orchestra featuring Ashleigh Ball |
KIDS' STAGE
| | |
| --- | --- |
| 11:30am | Spakwus Slolem (Eagle Song Dancers) with the West Vancouver Youth Orchestra |
| 12:10pm | Storytelling with Swo-wo Gabriel |
| 12:25pm | Mom Bop |
| 1:20mp | Grade School |
| 2:10pm | Perry Ehrlich's ShowStoppers |
| 3:15pm | Rock n' Beau Dance Party and Mascot Dance-off |
| 4:25pm | Will's Jams |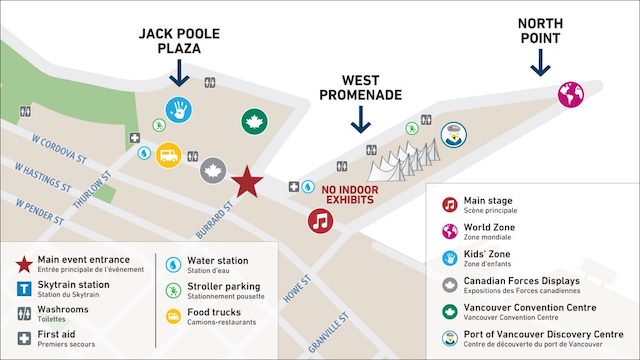 "We are pleased to see the event taking a new direction, and to be collaborating with the port authority to help guide the direction and future of this gathering," said Chief Wayne Sparrow, Musqueam Indian Band. "We are proud to build on the inclusion of the culture and history of the three nations on whose traditional territory the event takes place."
The theme this year is "Weaving together the fabric of a nation," chosen to honour the country's diversity and set an intention for the day to gather, celebrate, learn, and share. Weaving is a common activity across many cultures and is a metaphor for the way the beauty, strength, and wisdom from the past can combine through multiple perspectives to create something meaningful for today and tomorrow.
"After a long hiatus, the Squamish Nation is excited to help plan out this in-person event again for Canada Day," said Sxwíxwtn (Wilson Williams), Councillor and spokesperson for Squamish Nation. "Attendees will learn about the importance of advancing reconciliation with Indigenous peoples across this country, learn about different Indigenous languages and cultures and enjoy spectacular performances by Coast Salish drummers and singers. We hope to see you there on July 1."
The gathering will feature a full day of festivities, great food, family fun, and performances. At 11:00am, all zones and exhibits, including the Main Stage, will open with great entertainment and activities for guests of all ages. The iconic waterfront venue covers five city blocks and will include the outdoor spaces at Canada Place, Jack Poole Plaza and surrounding city streets.
Chief Dr. Robert Joseph will share a special message on behalf of Reconciliation Canada.
"Canada Day and what it means to be Canadian has taken on a new meaning in the last year," says Tsleil-Waututh Nation Chief Jen Thomas. "Working alongside our relatives at Musqueam and Squamish, as well as the Vancouver Fraser Port Authority, we look forward to working together on creating an inclusive event that showcases Tsleil-Waututh and Coast Salish history, culture, and values. We look forward to celebrating and sharing a piece of our community with the general public on July 1st, 2022."
Find the full schedule and program information online and follow Canada Place on Facebook for more updates.