It used to be Vancouver Bird Week, surrounding the World Migratory Bird Day, but there's just so much to see, do, learn, photograph, and talk about that it's now a two week long Vancouver Bird Celebration (May 14-31, 2022). Enjoy bird-related workshops, talks, exhibitions, and lectures across the Lower Mainland – and most events are free!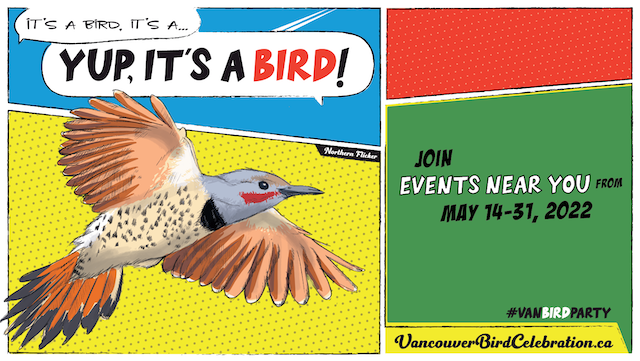 Vancouver Bird Celebration 2022
Birds are a gateway to nature, inspiring connection to and appreciation of the world around us. During May, over 250 species of birds can be seen and enjoyed throughout the Lower Mainland. Watch these feathered heroes perform super feats of strength and agility all over town. No matter your experience level – from expert bird nerd to casually curious – there is sure to be something for you to enjoy through these talks and workshops (some are free but do require registration):
For Families
For Beginners
For Experienced Birders
Online
Accessible
This whole movement was inspired by World Migratory Bird Day, a United Nations-sponsored initiative that recognizes the importance of birds as key indicators of our environment's health. Find a directory of local birds, resources, and more events online.
The Vancouver Bird Celebration is coordinated by the Stanley Park Ecology Society, and organized by the Vancouver Bird Advisory Committee – a collaborative partnership of non-profits, artists, and other institutions, in partnership with City of Vancouver and Vancouver Park Board – who assist cities, municipalities and organizations in Greater Vancouver to celebrate birds throughout the region.