Promoting mental health awareness with the music of Nirvana in one unique concert for a cause! On May 14th, The Negative Creeps will perform in support of Dan's Legacy BC, a non-profit that provides no-barrier trauma informed counselling programs to youth at risk. Funds raised at the event will support "East Van Dan's", the charity's drop-in workshop program in the Downtown Eastside and East Vancouver.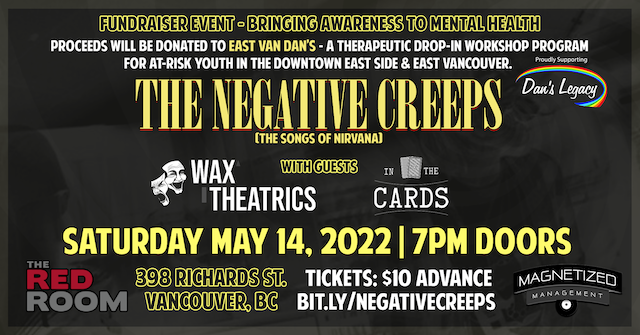 The Negative Creeps Fundraiser for Dan's Legacy
When: Saturday, May 13, 2022 at 7:30pm
Where: The Red Room (398 Richards, Vancouver)
Tickets: Buy online now for $10 in advance or $15 at the door.
This one-off send-up to the music of Nirvana is being orchestrated by Vancouver singer/songwriter and multi-instrumentalist Rod Moore (The Rod Moore Band, The Hang-Ten Hangmen), who had recently completed reading Dave Grohl's autobiography and was affected by the depiction of Kurt Cobain's struggles.
Moore was also affected by the book musically, having found himself immersed in Nirvana's music; he was inspired to put together an ensemble to perform these songs while shining a light on some of the issues which affected the band's late frontman.
"2022 marks 30 years since 'Nevermind' topped the Billboard charts; I felt that performing songs from both this album and the rest of their catalogue would not only make a great tribute, but also present a fun challenge," stated Moore about the upcoming performance.
As this will be a one-time performance by THE NEGATIVE CREEPS, Moore has started an Instagram account @TheNegativeCreepsYVR which will chronicle the preparations in putting on this show.
The fundraising event will feature songs from "Nevermind", "Bleach" and "In Utero", along with sets by up-and-coming local acts Wax Theatrics and In the Cards.
Dan's Legacy provides therapeutic counselling and life-skills intervention programs to youth affected by trauma-based mental health and addictions issues. In the past year, Dan's Legacy helped over 400 youth stabilize and begin working towards their educational, employment, and recovery goals. Individuals can self-refer to Dan's Legacy for help at any time.