Celebrate the return of summer fun and excitement over 17 Fridays from May to September at Shipyards Live in North Vancouver. The waterfront will be hopping with live music, culture, food, and activities for the whole family. This will be the first year since The Shipyards development was completed that the site will be utilized to its full potential, without any health and safety restrictions.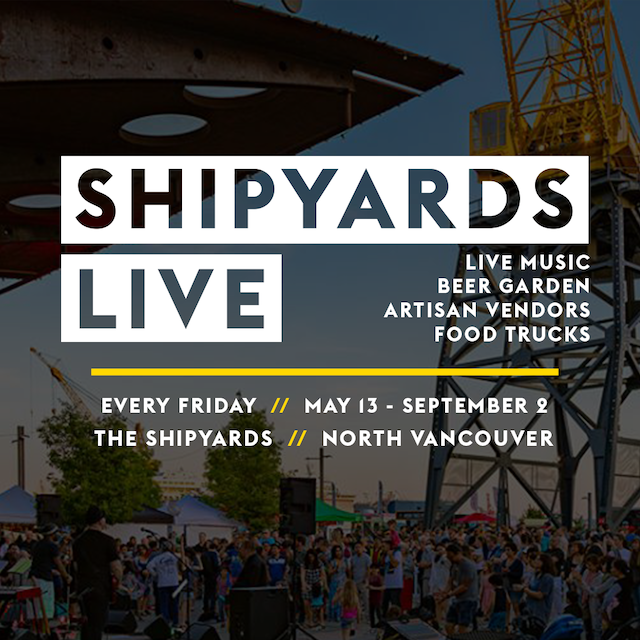 Shipyards Live in North Vancouver 2022
When: Weekly on Fridays, May 13 to September 2 from 3:00pm to 10:00pm
Where: The Shipyards (near Lonsdale Quay Terminal by transit) in North Vancouver
Admission: Free! Just show up
Festivities will be free for the public and will include a splash park, giant licensed patio, artisan vendors, food trucks, and live music programming.
Shipbuilders Square will buzz with live music from the best local talent across a wide range of styles and genres including R&B, Soul, Funk, Country, Pop, Jazz, and Samba. Confirmed performers so far include: Dave Hartney (August 19), Krystle Dos Santos (June 24), Amanda Wood (July 15), Nicole Sumerlyn (July 8) with more to be announced in the coming weeks.
Find a spot on The Patio presented by Stanley Park Brewing, and enjoy good eats from a wide selection of food trucks. You can look forward to a diverse and delicious rotating lineup of trucks each week at Shipyards Live throughout the summer. Located along Wallace Mews you will also find an eclectic group of chefs, artists and entrepreneurs who serve some of the finest food in the city, showcasing flavours from around the globe.
Plan your Friday nights accordingly and follow Shipyards Live on Facebook and Instagram for the latest updates.