The Fair at the PNE has been a staple in Vancouver for over 100 years and it returns this year with all-time favourites, new fun and food offerings, and a sizzling hot PNE Summer Night Concerts lineup!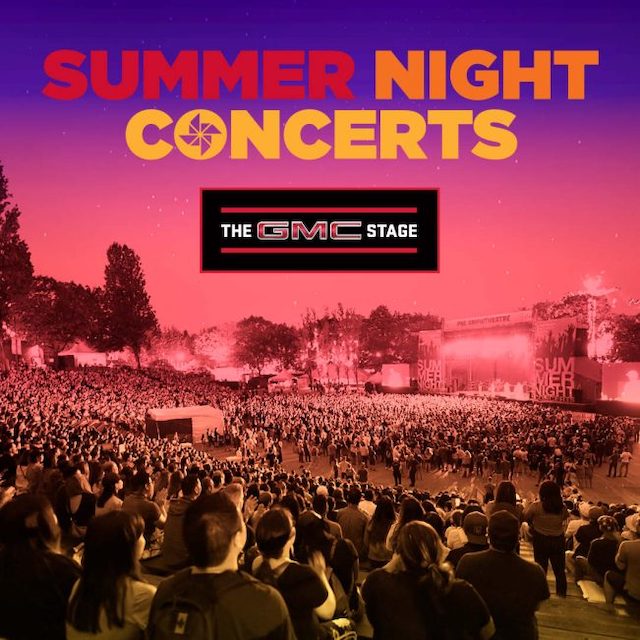 The Fair at the PNE
The PNE Fair is back on from August 20 to September 5, 2022 with the Stars of the Peking Acrobats, SuperDogs, Flying Fools High Dive Show, BCAA ToonCity shows, Dueling Pianos, Electric Fire, For the Love of Drag tribute show, and Coca-Cola Stage bands.
The Fair continues to be the best part of summer, where you can fill up on all the treats you can eat, learn about agriculture, experience thrill rides, watch chef demonstrations on the Safeway Cooking Stage, and experience Metro Vancouver's Together We Make Our Region Strong showcase.
PNE Summer Night Concerts 2022
At the GMC Stage at the PNE Amphitheatre, don't miss The B-52s Farewell Tour, followed by quintessential Canadian acts: Blue Rodeo, Bachman Cummings, and the Barenaked Ladies with special guest Kim Mitchell.
Hip Hop fans can groove to shows by Nelly, and TLC & Shaggy, while country fans will be entertained by Brothers Osborne. Take a trip down memory lane with R&B classics by living legends Chaka Khan & Patti LaBelle.
International Stars of Drag take to the stage for A Night of True Colours in an all-ages extravaganza hosted by Ginger Minj and featuring Vancouver's own Kendall Gender.
Plus: Chicago, Steve Miller Band, Cake, Gipsy Kings Feat. Nicolas Reyes, and The Beach Boys. And the largest group of musicians – The Vancouver Symphony Orchestra – round out this year's exciting line-up with their tribute to the Beatles.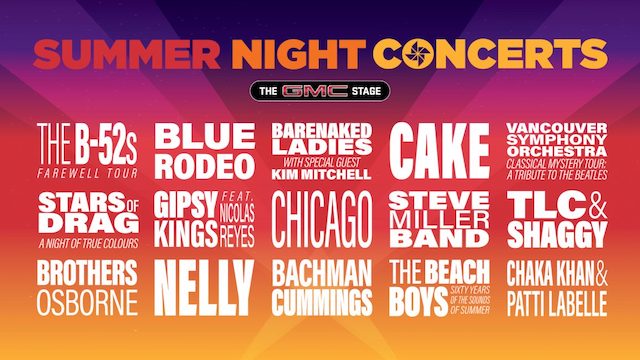 The B-52s Farewell Tour
Sat, Aug 20, 2022
Steve Miller Band
Tue, Aug 30, 2022
Blue Rodeo
Sun, Aug 21, 2022
TLC & Shaggy
Wed, Aug 31, 2022
Barenaked Ladies with Kim Mitchell
Tue, Aug 23, 2022
Brothers Osborne
Thu, Sep 1, 2022
Vancouver Symphony Orchestra
Thu, Aug 25, 2022
Nelly
Fri, Sep 2, 2022
Stars of Drag
Fri, Aug 26, 2022
BACHMAN CUMMINGS
Sat, Sep 3, 2022
Gipsy Kings Feat. Nicolas Reyes
Sat, Aug 27, 2022
The Beach Boys
Sun, Sep 4, 2022
Chicago
Sun, Aug 28, 2022
Chaka Khan & Patti LaBelle
Mon, Sep 5, 2022
PNE Summer Nights Concerts pre-sale is this Thursday, May 26th at 10:00am and regular tickets will be on sale through TicketLeader on Friday, May 27 at 10:00am. Note: Concert tickets do not include Fair Gate Admission. You will also need to purchase a date specific Fair Gate Admission separately. PNE Insiders get access to the pre-sale, sign up for their newsletter and never miss an update!