Vancouver Heritage Foundation's Places that Matter will host a Militant Mothers of Raymur Celebration in time for Mother's Day on May 7th, featuring the 91st plaque presentation to commemorate the history of the location.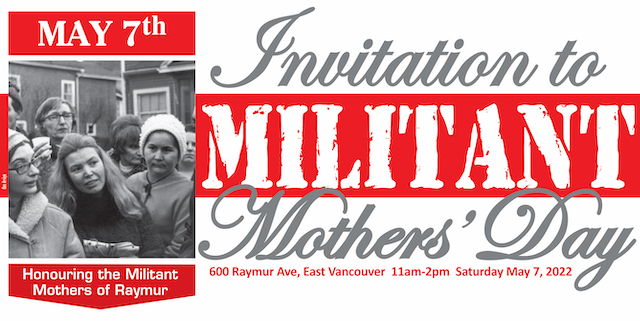 Militant Mothers of Raymur – Places that Matter
When: Saturday, May 7, 2022 from 11:00am to 2:00pm
Where: 600 Raymur, Vancouver
Festivities: Plaque presentation, live music, storytelling. More info here »
When the Raymur housing project opened in 1971 parents were dismayed that their children had no option but to cross the railway tracks to get to school. After months of meetings and no action, mothers took actions into their own hands.
On January 26 1971, newspapers reported that: "twenty five women, the 'Militant Mothers of Raymur,' blockade the train tracks between Raymur and Glen demanding a safe crossing for Seymour students who have to cross the busy and dangerous tracks every day to get to school."
Tents were pitched across the tracks, placards were hoisted with slogans such as "Petitions Don't Work" and "Children Before Profits" and the news media showed up. In short order the city agreed that an overpass would be built across the tracks at the foot of Keefer Street. Not trusting the City, the "Mothers" kept a vigil on the tracks until construction actually began in March of 1971.
In 2019, the City of Vancouver officially changed the name of the bridge from the Keefer Street Pedestrian Overpass to the Militant Mothers of Raymur Overpass in honour of these women.
Nearby Places That Matter Sites
The Places That Matter Community History Resource website is an information-rich website that expands on the original Places That Matter plaque program – a project created in 2011 to celebrate Vancouver's 125th anniversary as an incorporated city. PTM has helped recognize 125 community-nominated sites, covering some of the people, places and events that tell the story of Vancouver's history. Each of the 125 sites is profiled with their own webpage exhibiting the plaque text, historic research, oral histories, contemporary and historic photos, as well as opportunities for community contribution.
Miss604's Rebecca Bollwitt was on the Places That Matter to Vancouver selection committee in 2011.