The Richmond Museum has announced that the 15th annual Doors Open Richmond ("DOR") returns this spring as a free, in-person and online event from June 2–5, 2022. This year's edition features 35 sites representing the city's cultural diversity and rich heritage, including 21 that will welcome visitors in-person. There are also five new sites that are participating in DOR for the first time.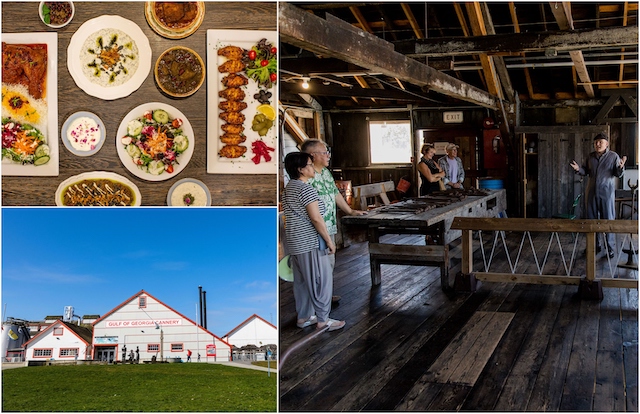 Doors Open Richmond 2022
When: All in-person activities will take place on June 4–5, and will be complemented by virtual content available from June 2.
Where: At 35 sites online and in-person
Admission: Free! Most in-person programs/tours require advance registration, with a select number of sites offering drop-in activities. Find drop-in and registration info online here.
The in-person program offers visitors a wide range of activities. Saint Germain Bakery, one of the new sites this year, will give tours of their central facility where cakes and pastries are produced. Tours will conclude with sample tastings. Richmond Media Lab will show how to bring drawings and figurines to life using the magic of stop-motion technology. Visitors can experience a day in the life of a firefighter at Fire Hall #1, Richmond's largest and busiest fire hall, with hands-on activities and demonstrations. Family-run restaurant Anar Persian Cuisine will offer an introduction to Persian food, customs, and traditions.
A special shuttle tour will be available on June 4 taking visitors to various places of worship along No. 5 Road, also known as the "Highway to Heaven." The tour will stop at the Az-Zahraa Islamic Centre, Lingyen Mountain Temple, and the Richmond Jamia Mosque.
The online component of Doors Open Richmond will be available from June 2 on the Richmond Museum's website. Highlights include new videos that offer an inside look at the important work of Immigrant Services Society of BC and The Kehila Society, a partnership of Jewish communal organizations.
Site List:
In-Person
Anar Persian Cuisine
Artefact Storage Facility for City of Richmond
Az-Zahraa Islamic Centre
Branscombe House
Britannia Shipyards National Historic Site
Fire Hall #1
Gulf of Georgia Cannery National Historic Site
Lingyen Mountain Temple (Canada)
Richmond Art Gallery
Richmond City Hall
Richmond Eastern Catholic Church
Richmond Jamia Mosque (Sunni Muslim Congregation)
Richmond Media Lab
Richmond Museum
Richmond Public Art
Richmond Public Library
Richmond RCMP – City Centre Community Police Office
Saint Germain Bakery Central Facility [NEW]
Steveston Japanese Canadian Cultural Centre
The Blue Cabin Floating Artist Residency [NEW]
Online
Fairchild Radio AM1470 & FM96.1
Fairchild TV & Talentvision
Immigrant Services Society of BC [NEW]
London Farm Heritage Site
Nanaksar Gurdwara Gursikh Temple
Richmond Caring Place Society
Richmond Family Place Society
Richmond Olympic Experience
Scotch Pond Heritage Site
Sea Island Heritage Society
Steveston Japanese Buddhist Temple
Steveston Tram
S.U.C.C.E.S.S Richmond Service Centre [NEW]
The Kehila Society of Richmond [NEW]
Vancouver International Buddhist Progress Society
Established in 2008, Doors Open Richmond is the longest-running Doors Open event in British Columbia.