Adaawx Publishing is released the second edition of the national bestselling book First Nations 101 in print and as an e-book on May 19, 2022. Written by Lynda Gray (Ts'msyen Nation), the book is an accessible primer on contemporary Indigenous issues geared towards both non-Indigenous and Indigenous readers.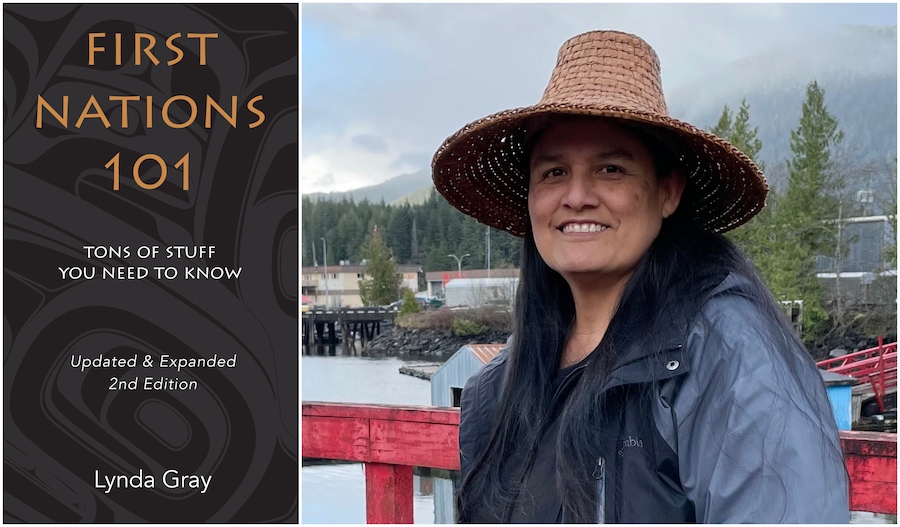 First Nations 101 by Lynda Gray
Pre-order online now. $1 dollar from each sale will be donated to the Ts'msyen Revolution Fund to support language and culture revitalization in laxyuubm Ts'msyen (Ts'msyen territory). The fund was established by Gray and her children, scholar Robin Gray and artist Phil Gray.
The second edition comes more than a decade after the original publication, and features timely updates on current conversations around residential schools, language restoration, decolonization, reconciliation, and more.
"Over the past few years, we've seen major policy developments and revelations about Canada's recent past that have impacted Indigenous communities legally and emotionally," says Gray. "From Canada's adoption of the United Nations Declaration on the Rights of Indigenous Peoples to the discovery of 215 children's remains at Kamloops Indian Residential School last summer, this country's relationship with Indigenous people has been at the forefront of many minds. First Nations 101 will help both Indigenous and non-Indigenous people understand the true history of Canada, while charting a path forward towards reconciliation."
First Nations 101 was first published in 2011 and has sold more than 26,000 copies to date. At the time of its publication, the book was one of the few sources of information focused on the breadth of issues affecting Indigenous communities across Canada. Gray wanted to contribute to a more nuanced understanding of Indigenous people and culture, and set out to write an easy-to-read introduction. She founded Adaawx Publishing in order to maintain complete autonomy over the writing process. Adaawx is a Sm'algyax (Ts'msyen language) word that translates to "oral history" or "truth telling."
Gray was inspired to revise and expand First Nations 101 by the Truth and Reconciliation Commission and the Inquiry into Missing and Murdered Indigenous Women and Girls, among other recent events. The author spent the past two years during the pandemic doing research and learning from other Indigenous people to ensure the 76-chapter book offers a comprehensive and up-to-date overview of critical issues.
The second edition includes 16 new chapters:
Traditional Governance
Traditional Economies
Loss of Traditional Parenting Skills
(Mis)Appropriation
Environmental Concerns
Decolonization
Water for Life
Rematriation
Indigenous Feminisms
Sexual & Reproductive Health
Economic Development
Police, Fire & Emergency Preparedness
Indigenous Knowledge
Family Tree & Genealogy Research – Finding Our Way Home
What Is Reconciliation?
How to Become a Great Ally
About Lynda Gray
Lynda Gray is a member of the Ts'msyen Nation on the Northwest Coast of BC (Gisbutwada / Killerwhale Clan). Born in Prince Rupert, she has lived in East Vancouver since she was a child. She and her children have learned about their Ts'msyen culture and community from their participation in the Lax Kxeen Ts'msyen Dance Group, as well as from attending traditional feasts in Lax Kw'alaams. Gray is an active member of the Indigenous community, and her work is grounded in a strong belief in community development, youth empowerment, and culture as therapy. She has a bachelor's degree in Social Work from UBC, was the executive director of the Urban Native Youth Association for eight years, and currently serves on the National Indigenous Cultural Safety (ICS) Advisory Circle.
Enter to Win
I have three author-signed copies of First Nations 101 (Second Edition) to give away! Here's how you can enter to win:
Win an Author-Signed Copy of First Nations 101 by Lynda Gray
Available in time for individuals, educators, institutions, and governments to prep their reading lists for National Indigenous History Month in June.