Dragon Boat BC has announced the 2022 Concord Pacific Dragon Boat Festival lineup with free main stage concerts Saturday, June 25 and Sunday, June 26 along with a full slate of programming throughout the weekend: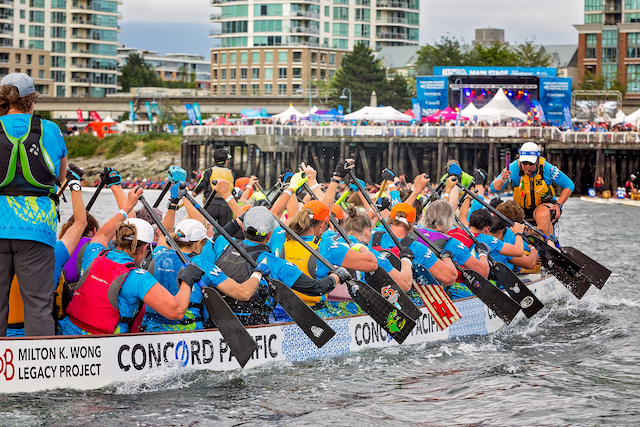 Dragon Boat Festival 2022
When: Public festival programming takes place on June 25 to 26, 2022

Racer-only events on June 24

Where: Concord Pacific Place and Creekside Park around False Creek in Vancouver
As the continent's largest dragon boat festival, the free public event will feature much-anticipated international dragon boat races on False Creek and cultural programming.
The festival's main stage lineup features one of Chinatown's oldest traditional music ensembles and groups representing Musqueam, Squamish, and Tsleil-Waututh communities; reflecting the organization's goal to respect the roots of where it comes from, and protocols of the territories where the event is held.
Music and Performer Lineup
Saturday, June 25 The Zolas, Hotel Mira, Mauvey, Children of Takaya, Dacey, Ludic, AHSIA, Eagle Song Dancers, Qing Yun Music Society
Sunday, June 26 Desirée Dawson, Tonye Aganaba, Coastal Wolf Pack, COCO JAFRO, Best Night Ever, Niña Mendoza
The festival will also feature a significant new addition as part of its programming, supported by Concord Pacific and the Province of BC (to be announced June 9th).
Races, Food, Shopping
Of course the main event, the dragon boat racing, will be on the water from 9:00am to 6:00pm daily, with races running approximately every 11 minutes. Most races are 500m races starting from around Cambie Bridge and ending near the Main Stage. Look for on-site screens for the livestream and race commentary, and look for Race Result towers to see the day's schedules.
There will be cultural programs on site so visitors can learn about the community's heritage, and how it intersects with the story of the modern dragon boat festival. Located along Creekside Park South between Main Street and Creekside Community Centre, hear from the original inhabitants of these territories, and hear myths behind the dragon boat festival's foundation and arrival in Vancouver.
When it comes to food, why not enjoy one of the province's most scenic patios – right at Creekside Park! Pick up a drink (photo ID required) from the beverage garden, and enjoy a bite from one of the many food trucks located at Creekside Park North.
You can also pick up a souvenir of the Festival, or support a local vendor across the entire site.
About the Canadian International Dragon Boat Festival Society
The Canadian International Dragon Boat Festival Society is the non-profit organizer of North America's flagship dragon boat festival – the Concord Pacific Dragon Boat Festival, and runs Dragon Zone Paddling Club – Canada's largest paddling club.
The Society also produces a series of races, cultural programming, and community initiatives centred around the traditional Chinese sport of dragon boat. Through its All Access and youth programs, supported by the Milton K. Wong Legacy Project, the Society makes paddling experiences accessible regardless of any barriers to participation.