The longest running offshore fireworks competition in the world, the Honda Celebration of Light, returns to English Bay in Downtown Vancouver this summer with three nights of light, music, and food.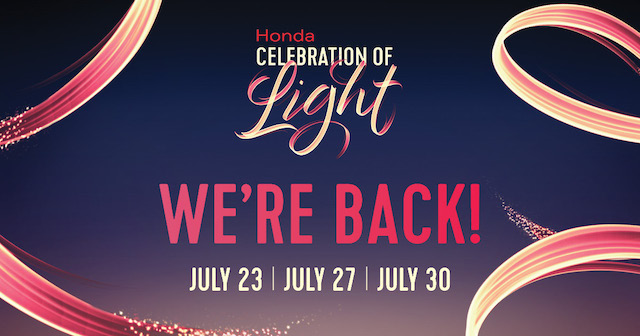 Honda Celebration of Light Fireworks Countries
July 23, 2022 Japan Akariya Fireworks

Akariya Fireworks strive for the absolute safety, as much as the best performance. This team took home 1st place in both the Honda Celebration of Light 2014 and 2017.

July 27, 2022 Canada – Midnight Sun Fireworks

Midnight Sun Fireworks is an award winning team of Yukon Pyrotechnicians; passionate about creating unique shows that bring life to the music in their soundtracks.

July 30, 2022 Spain – Pirotecnia Zaragozana

Founded in 1860, Pirotecnia Zaragozana is one of the most awarded companies in Spain providing you with prestigious, safe and quality shows.
While the fireworks spectacle is free for all to enjoy, there are a few premium experiences that you can book to enhance your viewing experience:
Concord Lounge at the Inukshuk: A chilled-out waterfront VIP lounge with the closest view of the fireworks.
Scotiabank Lounge: Lively social atmosphere with panoramic views from the top of the bathhouse roof at English Bay.
English Bay Grandstand: Reserved bleachers seats with elevated views of the fireworks.
Private Cabanas: Perched atop the English Bay Grandstand, the Private Cabanas offer the most exclusive hosting option for groups or corporate partners. Each cabana hosts up to 24 people per night in an exclusive environment featuring premium food and beverage options.
The Patios: Located on either side of the English Bay Grandstand. Enjoy unobstructed views from your own exclusive patio that can host up to 65 people per night in a lively atmosphere.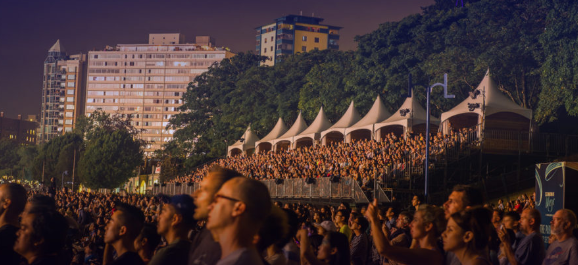 When it comes to music, multiple pop-up stages will surround English Bay with a selection of BC-based talent performing from day to night. If you're coming down for dinner, visit West End restaurants and eateries, along with a variety of food trucks that will be on site. New this year, the festival will have a local marketplace/artisan pop-up shopping experience at Morton Park.
Follow the Honda Celebration of Light on Facebook for the latest updates and news.