The world premiere of the larger-than-life space experience, Stargazer – An Immersive Universe, takes place today, April 13th, at Tsawwassen Mills Mall and I'm giving away tickets for a lucky winner to visit the exhibit this season!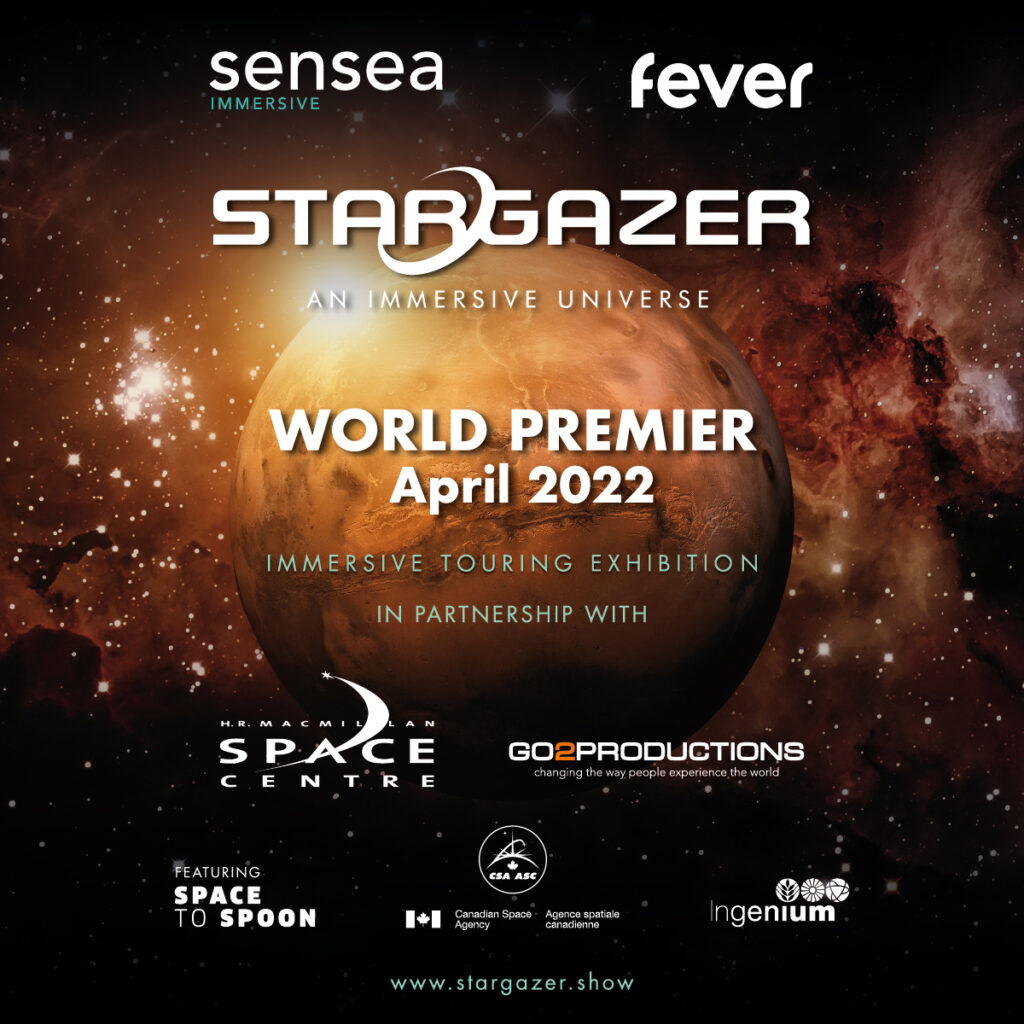 Stargazer – An Immersive Universe at Tsawwassen Mills
Space fans of all ages can experience the profound discoveries of the universe through this fully immersive visual and sensory-focused exhibit. Curated in part by the MacMillan Space Center, Stargazer immerses the audience into the infinite wonder of the universe through the use of interactive projections, virtual reality, and historically accurate replicas, including a real-size scale version of the Apollo Lunar Module.
The Stargazer immersive experience is a complete walkthrough of our complex and wondrous universe, featuring a 270-degree immersive room, a detailed timeline of the historic space race, and numerous replicas of famous rockets, space stations, and satellites.
Stargazer will also feature Ingenium's Space to Spoon exhibit, a hands-on experience with stunning graphics and interactive elements for visitors of all ages. This part of the experience showcases the science, technology, and innovation involved in modern agriculture – demonstrated to encourage informal science learning among school groups as well as general audiences.
"The H.R. MacMillan Space Centre is thrilled to be working with Sensea Immersive for the World premiere of Stargazer. This is a great opportunity to bring the excitement of space science and exploration to new communities." – Lisa McIntosh, Director of Learning at H.R. MacMillan Space Centre
Stargazer will be taking place at the location of the former Sensea Immersive exhibit The Da Vinci Experience at their facility at the Tsawwassen Mills.
Enter to Win
I have a pair of tickets to give away and the winner will be able to choose the date they would like to attend. Here's how you can enter to win:
Win Tickets to Stargazer – An Immersive Universe
Contest closes April 20, 2022 at 12:00pm and a winner will be drawn at random.
Stargazer – An Immersive Universe is presented by Fever and Sensea Immersive, with contributions from the HR Macmillan Space Centre, Ingenium Canada, and Go2 Productions, featuring Space to Spoon, an exhibition produced by Ingenium in collaboration with the Canadian Space Agency.