Vancouver Opera is hosting a free live simulcast of HMS Pinafore projected onto a large screen in šxʷƛ̓exən Xwtl'a7shn (formerly the QET Plaza) on May 7th while the live event is performed inside the Queen Elizabeth Theatre. All are welcome to attend the event which will also feature dance performances and children's activities.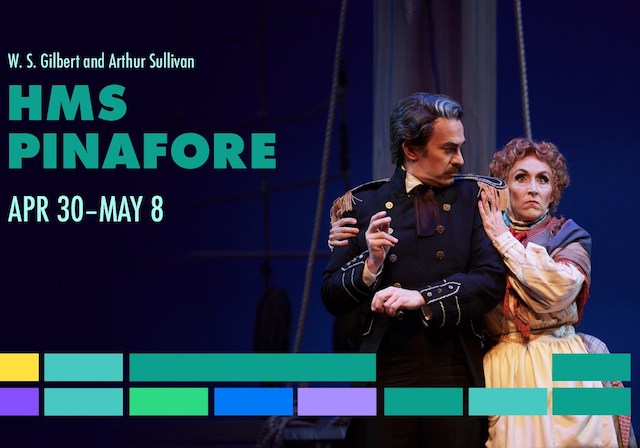 Free Vancouver Opera Event and Screening of HMS Pinafore
When: Saturday, May 7, 2022 at 6:00pm
Where: šxʷƛ̓exən Xwtl'a7shn (formerly the QET Plaza – 695 Cambie St, Vancouver)
Admission: Free! This event is weather dependent and will not proceed if it is raining
"Presenting this inaugural simulcast of HMS Pinafore at is a great way for us to celebrate opera with a new audience," said Tom Wright, Vancouver Opera General Director. "Alongside the evening performance of HMS Pinafore, we are hosting entertainers and events accessible to everyone before the performance and during the intermission. Our goal is to make this a fun celebration of the arts and provide new audience members a glimpse into the magic created by Vancouver Opera on the Queen Elizabeth Theatre stage."
Families will enjoy the stilt walkers and get fun images using nautical themed props in the photo station and purchase food from Mama's Fish and Chips. 
FakeKnot will present a 10-15 minute nautical themed drag set at the intermission of the production. Events will start at 6:00 p.m. and be held at šxʷƛ̓exən Xwtl'a7shn (formerly the QET Plaza). Vancouver Opera encourages attendees to bring blankets or lawn chairs to watch the simulcast.
Gilbert and Sullivan's comedic tale, HMS Pinafore, is a delightful combination of forbidden love across class divides and the shenanigans that take place along the way. Poking fun at social hierarchies and packed with absurd characters, this wildly popular operetta delivers plenty of laughs and memorable music.
Building on thewitty word play and comedy of this production, writer and comedian JD Derbyshire collaborated with director Brenna Corner to adapt the libretto for a modern audience. Rosemary Thompson makes her Vancouver Opera conducting debut with an all-star cast including soprano Caitlin Wood, tenor Ernesto Ramirez, baritones Jorell Williams, Peter McGillivray and Marcus Nance along with mezzo-soprano Megan Latham. HMS Pinafore is sung in English with English SURTITLES™ projected above the stage.
Tickets to the performance are on sale through the Vancouver Opera box office either by phone at 604-683-0222 or online.